Data is the new oil. We have all heard this being stated over and over again at technology conferences, and for good reason. With the advent of technology, we as humans have evolved in every silos of our lifestyle. Increased dependence on these new technological innovation gives rise to humongous amounts of data. We leave a digital footprint everywhere we go online and this data is considered sacrosanct for marketers who are looking to gain traction.
Similarly, we ourselves work in a technological dependent environment. The social fabric of our society is changing with the increase reliance on technological advancements. Our social details, professional documents are all bundled and stored locally or on cloud systems that we use. Data loss or damage is therefore a real scare. So, what can you do to avoid such circumstances where you are left red-faced due to some sudden loss of vital data? Protecting your data against such damages beforehand is definitely a good way, but not all situations can be accounted for and tackled by taking precautions. Antivirus softwares help, but they only go so far in actually eliminating all the threats that exists. Honestly, you can never be too sure of securing your private data and at times you might run into the need of recovering your lost data.
This is where Data Recovery software comes in the picture. These software works very fluently if you are looking to recover data from a lost drive such as memory sticks, USBs and other flash drives.
Losing data locally over a laptop or a system can be recovered provided you act quickly. How it works is, when you delete a file or a group of files, they are not completely erased but are stored in the temporary memory. Temp files which is used to carry out basic operations in the system. These files are overwritten from time to time and if you act swiftly after losing your data, you can recover these files from your temporary memory. EaseUS is one such software that does data recovering flawlessly. Let me give you a quick walk through for recovering data in an Acer Laptop.
Fortunately, if you have lost the data stored on the Acer laptop, you don't have to worry at all. As a general rule, when we store files in Acer laptops, they are saved in a hard disk drive. A hard disk drive is a data storage device used for storing and retrieving digital information. Most of the files or data can be recoverable with EaseUS data recovery wizard software and it is easy to recover deleted files.
This easy to use free recovery software gets all your lost files back without any further data loss accident. The free version of the program enables users to recover at most 2GB files for free without any limits. With the professional program we are using, you can recover your lost or deleted files, photos, audio, music, emails from Acer hard drive.
Follow the 3 steps to get your data back:
Step 1. Launch EaseUS Free Data Recovery Tool and select the drive where you lost your data and click the "Scan" button.
Step 2. The software will start to scan your Acer laptop to find all of your lost files or data.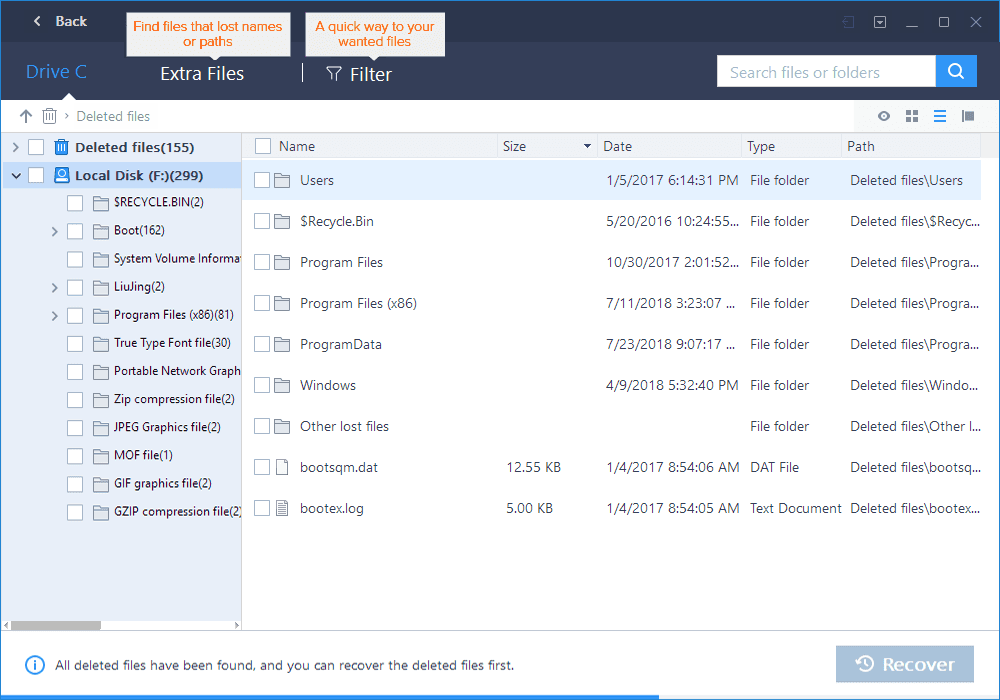 Step 3. After the scan, just choose what you need and click the "Recover" button to recover lost data.
Be aware of not to save data to the place where data loss happens. This might cause data overwritten.
That's it! You are done. Recovering data with top-notch software such as easeUS is relatively easy and less time-consuming. If you ever run into an issue and look at data recovery then look no further – EaseUS.
[related-posts]