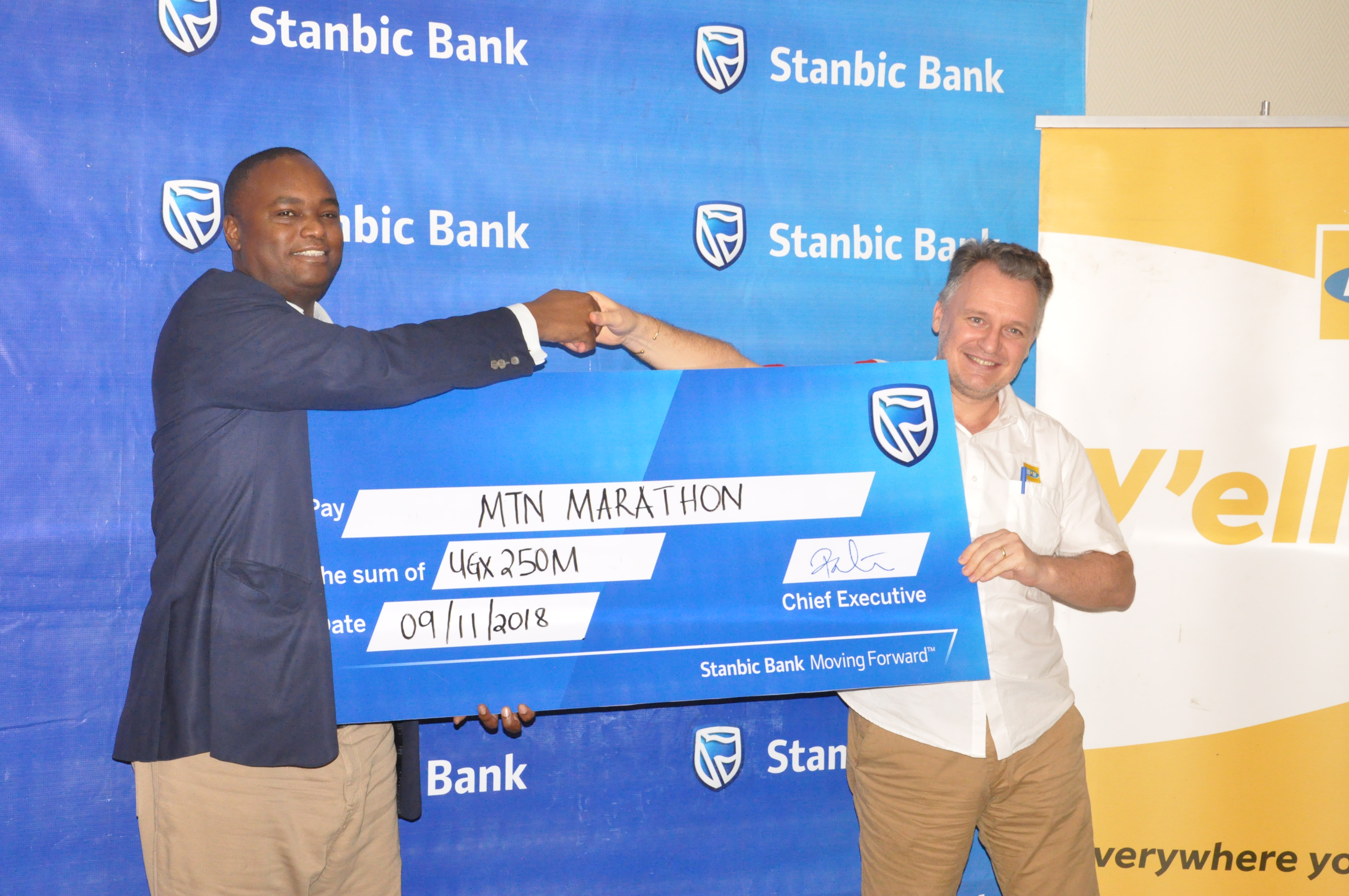 Stanbic Bank has handed over UGX250 million to MTN Uganda as its contribution towards the 2018 MTN Kampala Marathon. Accepting the contribution was MTN Uganda's Chief Executive; Mr. Wim Vanhelleputte. The handover was done at Stanbic Bank, head offices on Crested Towers.
The Bank has been a key long-term partner and supporter of the Marathon since its inception 15 years ago. This year, the event will take place on 25th November 2018 and proceeds will go towards improving maternal health in the country.
While handing over the cheque, Patrick Mweheire, Stanbic Bank's Chief Executive said, "we are proud to be an annual partner in the MTN Marathon a remarkable event that reaches out to thousands of Ugandans through initiatives that aim to transform lives in our communities."
According to UNICEF, Uganda's Maternal Mortality Rate has consistently been one of the highest in the world with 440 deaths per 100,000 live births. This means one woman out of every 49 will die of a maternal complication related to pregnancy or delivery.
Mr. Patrick said their objective as a bank is to build on the 15 years of success not only through their financial support but through the participation of their staff. Notably, the company contributes the largest number of runners with over 200 staff members participating annually. This year's event, Huawei says over 150 of its staff members will participate in this marathon.
Mr. Wim thanked Stanbic Bank for the continued support over the years saying the success of the MTN Kampala Marathon wouldn't be where it is today without the support of key partners like Stanbic.
"Together, we've continued to encourage thousands of Ugandans to contribute towards needy communities every year. Maternal health is an area that requires improvement especially in terms of seeking, reaching and receiving adequate and appropriate care. Through such partnerships, we will be able to improve these conditions to ensure safe childbirth for women," said Wim.
While the marathon is scheduled to take place on 25th, November 2018 at the Kololo Independence Grounds, Mr. Partrick, concluded the press briefing saying, "We encourage and look forward to more numbers in supporting this cause."