Last week, the Blockchain Association of Uganda together with the Government of Uganda through the Ministry of ICT and National Guidance successfully hosted the inaugural Africa Blockchain Conference at the Serena Hotel Conference Center from 23rd to 24th May 2018.
The Conference that opened under the theme 'The Role of Blockchain Technology in Africa's Transformation' was attended by over 700 delegates from 23 countries around the world was graced by the former President of Mauritius Ameenah Gurib-Fakim.
While giving his introductory remarks, the Minister of ICT and National Guidance, Hon Frank Tumwebaze said the Ministry will appoint an advisory team to study and explore how Blockchain technology can be beneficial to Uganda.
"I have agreed with the blockchain Association of Uganda, that in the coming weeks, the Ministry will appoint an advisory task force of eminent people on blockchain to further assess the opportunities of the technology and challenges, and advise the government on how to harness the technology." he continued.
"Blockchain technology like any other innovation will successfully take root in Uganda. If you push technology away, others will adopt it," said the Minister.
Our team @MoICT_Ug is working closely with private sector to learn more and explore use cases of #Blockchain tech @FrankTumwebazek

Happening now #AfricaBlockchainUG pic.twitter.com/lo51uptXXM

— Blockchain Association Of Uganda (@blockchainug) May 23, 2018
President Yoweri Museveni who opened the two-day event on Wednesday said there is a need to study the technology more to see how the risks it presents can be reduced and the benefits enhanced.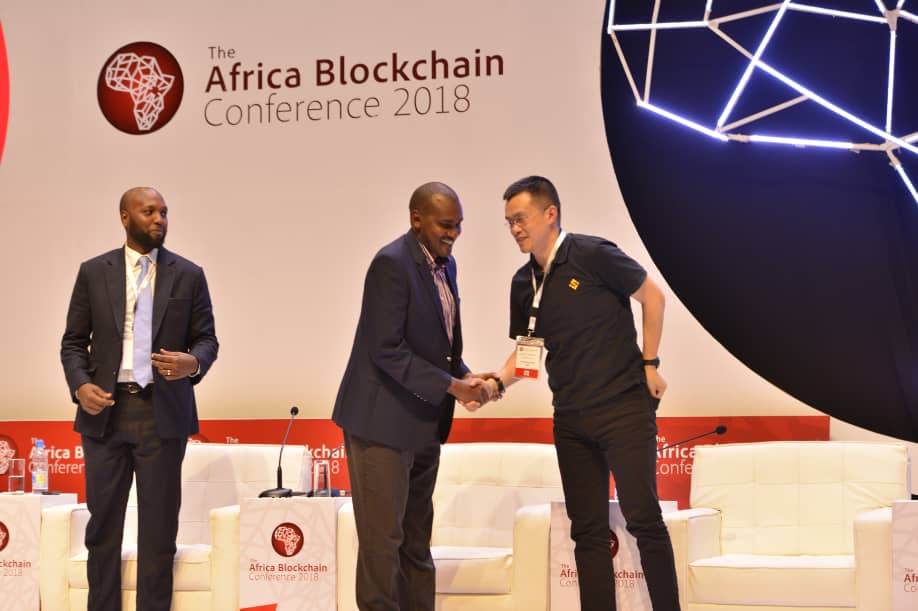 Nkwame Rugunda, the Chairman of Blockchain Association of Uganda, said Blockchain sits at the fourth stage of Industrial revolution and will significantly redefine our human and social progress because it addresses the critical underlying fabric that defines our human interactions which is Trust.
[related-posts]
Crypto Billionaire, Changpeng Zhao, CEO of the world's largest crypto exchange – Binance, that was the biggest sponsor of the Conference – gave a keynote about the opportunities created by Blockchain and specifically cryptocurrencies. Binance is an exchange that processes over $3 billion in crypto trades per day, the largest in the world, according to CoinMarketCap.
The topics of discussion included governance, regulation and policy, cryptocurrencies and digital assets, cybersecurity, innovation and technology, and risk and investment opportunities, among others.