Its just a matter of time for the Shenzhen-based smartphone markers, Huawei Technologies Co. Ltd to officially unveil the Huawei P20 smartphones. However, interestingly, aside from these three (P20, P20 Lite, and P20 Pro), the top Chinese OEM is said to be revealing another device with premium specs sighted on TENAA with model number NEO-AL00 that will come with a 6GB RAM and 512GB built-in storage.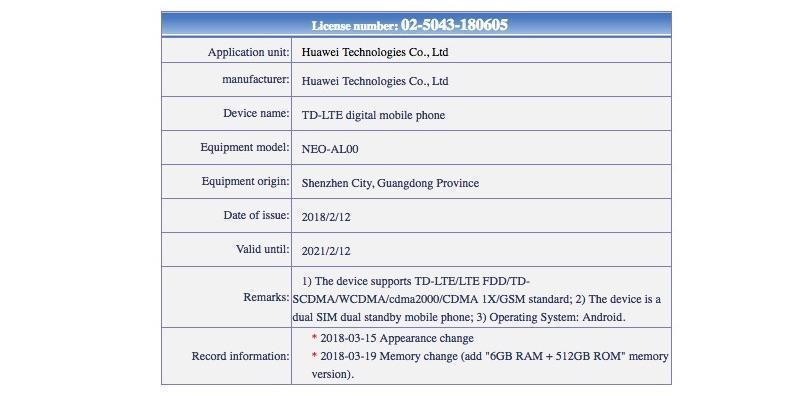 For one thing we're sure of today is that 6GB of RAM is 100% normal, but half a TB of memory is something else. And if Huawei is to unveil a phablet with such memory, it will be the first of its kind. Taking on the likes of well-renowned Apple, and Samsung who are the biggest brands in the smartphone industry.
South Korean-based Electronics firm, Samsung Electronics Co. Ltd. late last year announced that they were manufacturing new 512-gigabyte embedded Universal Flash Storage for flagship smartphones and mobile devices for 2018. We're assuming Huawei is using the component for this particular phone (the NEO-AL00).
According to online reports, many are thinking the NEO-AL00 could be the Huawei P20 Pro but there's also the idea it could be a Mate. A Huawei Mate X concept is possible since the 'MateX' trademark was recently filed in Europe.
Notably, storage plays a very big role when it comes to purchasing a handset considering the fact that the revamping and enhancements of today's smartphone cameras that support 4K videos, RAW photography, consume a lot of space. Having a half TB of space on your phone probably will not require you to have a microSD card. I mean if you're that one person that doesn't know what 4K videos or RAW photos is, then yes! you might not need one. Also if you're one of those that don't save media on your phone, then a microSD card won't be a handy tool for you.