WhatsApp for iOS finally gets the YouTube integration feature which is available globally. The Facebook-owned messaging app has been planning to bring this support to its chat interface for a long time now.
Now, iPhone users have the access to the new feature that enables them to view YouTube videos right within a chat without being redirected to YouTube site/app. In order to get the new YouTube PiP (Picture-in-Picture) support feature, users need to update/download the latest version of the app.
WABetaInfo a Twitter handle that tracks WhatsApp newest features, first spotted the new feature on the WhatsApp app. The feature comes with play/pause, close, and fullscreen buttons.
According to Gadgets 360, the video pops up in a small bubbles when opened/tapped. Meanwhile, users also have the option of increasing and decreasing the size of the video bubble. The bubble can also be moved anywhere on the screen. However, when they moved the video window around, it either settled on the top of the screen or at the bottom.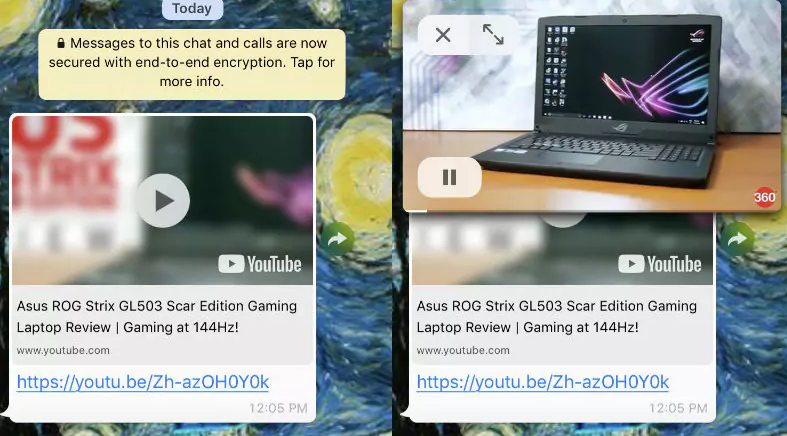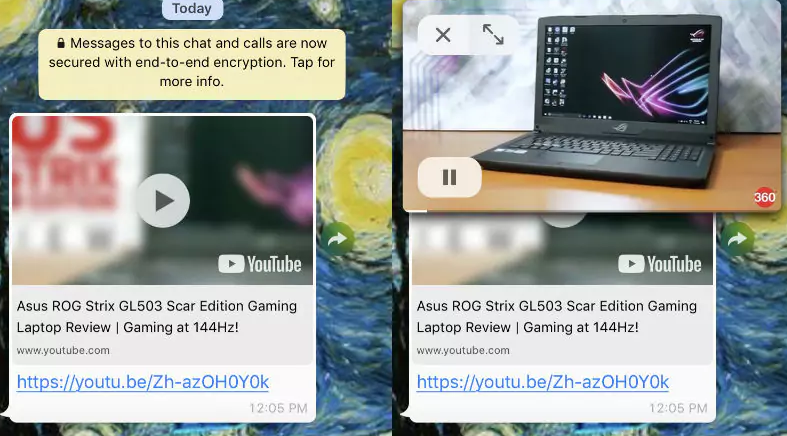 Interestingly, the bubbles appear only when a user receives a video. So, if a user shares a video with a contact, they themselves cannot watch it within the app.
Notably, the social messaging platform last year rolled out the PiP feature to WhatsApp for Desktop users. As mentioned before, the PiP mode lets users watch videos in a separate pop-up screen.[related-posts]
Instagram and WhatsApp Status Integration
The company promises to roll out more updates, following their success last year with the Revoke feature being one of their best feature. Meanwhile, Facebook-owned photo and video sharing platform; Instagram is testing feature that allows cross-posting of Stories to WhatsApp Status.