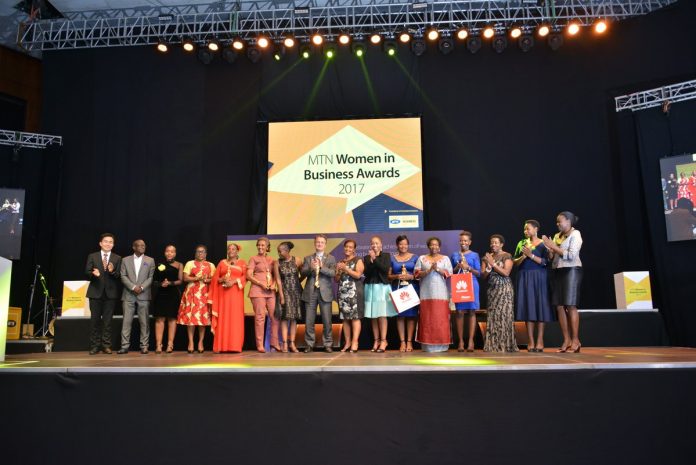 MTN Uganda on Friday 17th March, 2017 hosted their 5th annual Women in Business awards at the Kampala Serena Hotel that marked the end of the two month long search for women who have excelled in their enterprises through the use of tools and opportunities available to them.
Under the 2017 theme; Survival of the fittest: Partnering for success, these awards celebrate the achievements of Ugandan women entrepreneurs who against all odds continue to excel in the predominantly male dominated field of business.
The guest of honor for the evening, Hon. Maria Kiwanuka thanked MTN for the support it's extending to communities and to that of women in particular. She offered advice to those engaged in business to "stand up for their rights. Pay their taxes but also follow up government programs and demand for accountability of how the tax funds are appropriated."
MTN Uganda Chief Marketing Officer; Mrs. Mapula Bodibe speaking at the award ceremony, thanked women and other stakeholders who gave of their time to implement the 5th edition of what is now the most recognizable platform celebrating upcoming and successful women entrepreneurs in Uganda.
MTN CEO, Wim Vanhelleputte with the Winners, Judges, Panelists and Moderators of tonight's event #MTNWiB17. pic.twitter.com/mh9dEmcEAy

— MTN Uganda (@mtnug) March 17, 2017
"I congratulate Uganda's women and continue to be inspired by what you've achieved in your various capacities as mothers, wives and most significantly as industry captains", she said.
Among the highlights of the night was a stimulating panel discussion, and a key note speech delivered by Ms. Phuti Mahanyele; Executive Chairperson at Sigma Capital and an accomplished female business leader in South Africa as well as across the globe.
In an address that emphasized perseverance, Ms. Mahanyele encouraged women entrepreneurs to seek out and engage with potential partners internationally because international partners continue to seek out good investment ideas from across globe.
Panel discussions were moderated by Mrs. Jackie Namara Rukare an accomplished marketing and communications professional, Dr. Barbara Ofwono Buyondo, a senior educationist and proprietor of Victorious Education Services, Mrs. Elizabeth Ntege, Co-Founder and director of NFT Consult Group of Companies, Ms. Caroline Mboijana; Managing Director of The Leadership Team (TLT) Uganda, and Mrs. Juliet Kakaayi Nsubuga, the Senior Manager, Consumer Sales & Planning MTN Uganda.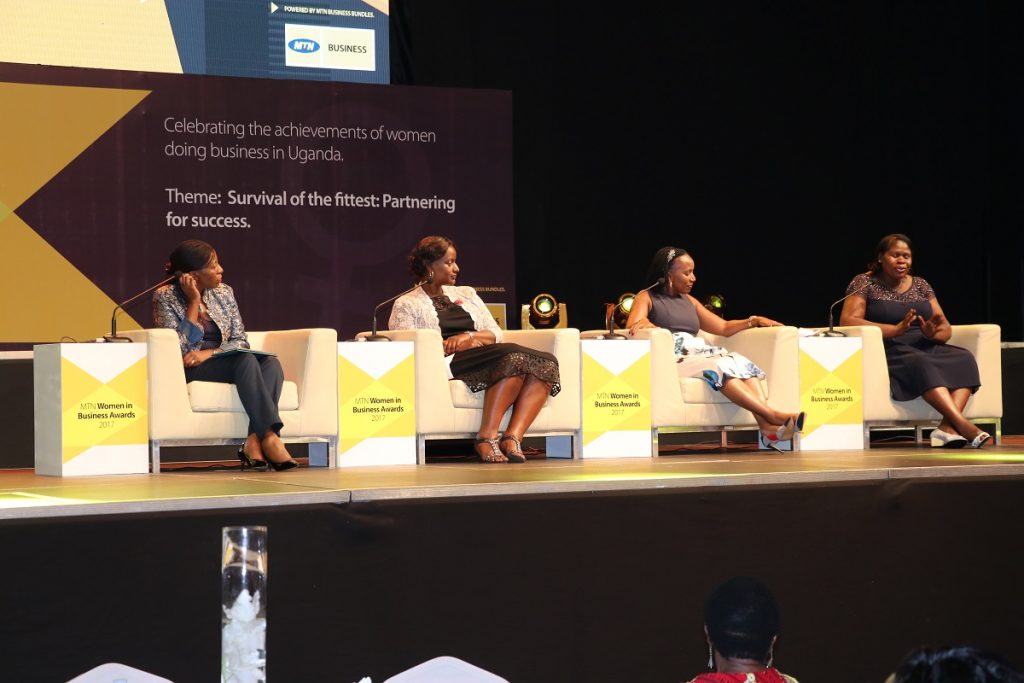 MTN Business together with partners gave an assortment of prizes and recognition certificates to all nominees. The nominees were selected from a pool of women managed enterprises that are serviced by MTN Business while those in the People's Choice category were chosen from New Vision/Bukedde's entrepreneurship programs and the final five selected through a popular public vote.
Nominees in four categories:
MTN Women in Business Excellence in ICT Award
MTN Women in Business Excellence in Financial Services Award
MTN Women in Business: CEO Of The Year
MTN Women in Business: MTN Staff Woman Champion
MTN Women in Business: People's Choice (Survivor of the Year)
This year, the awards also featured an MTN Staff Woman Champion category comprising of ladies working with MTN but impacting their communities through entrepreneurship.
The winners were selected by a panel of distinguished judges; Jennifer Mwijukye; CEO at Unifreight Group, Rita Balaka; Head of Compliance at Stanbic Bank Uganda, Dr. Margaret Blick Kigozi; Business Consultant, Yewagnesh Mamo Biriggwa; Country Manager at South African Airways, and Sophia Mukasa; Senior Manager at Enterprise Marketing at MTN Business Uganda.
2017 MTN Women in Business Awards
Speaking on behalf of the judges, Dr. Kigozi detailed the criteria used to select the winners, emphasizing the need for women business owners to work towards having in place systems and processes that work to support the growth of their businesses.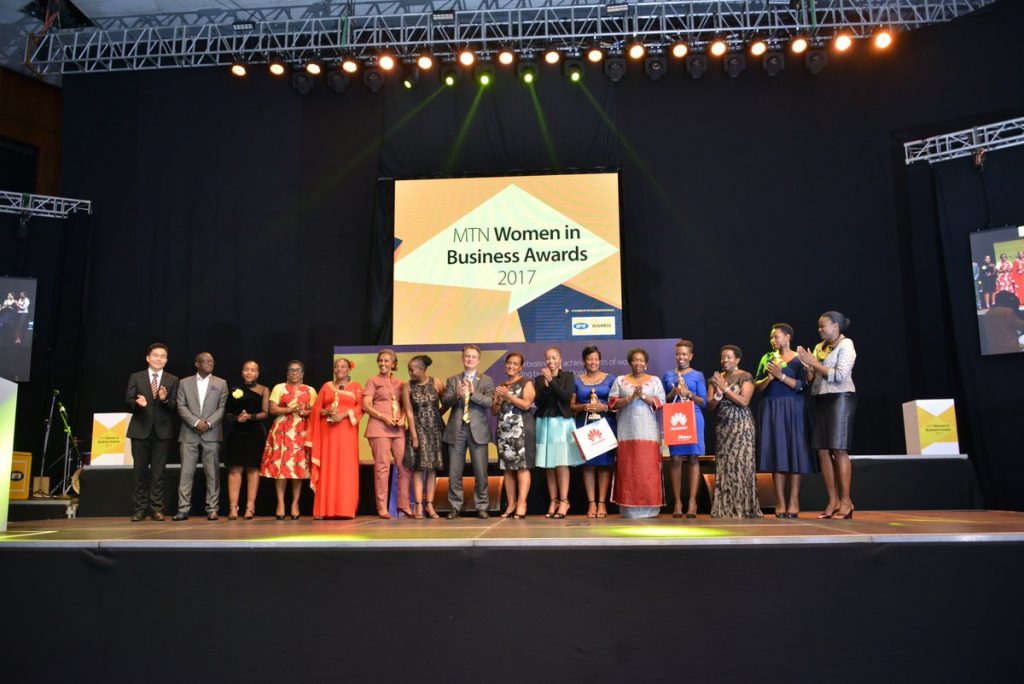 The Full list of 2017 Women in Business Nominees and Winners*
1. MTN Women in Business: MTN Staff Woman Champion
Donna Namujju Kaddu Mukasa – Capital Projects, MTN Uganda (Co director at Lincoln Medical Limited WINNER*
Lazia Namutebi – Quality Assurance, Customer Experience MTN Uganda (Founder of Strive 4 Jannah Foundation)
Olivia Kyomuhendo Muhumuza – Back Office Administrator, Customer Experience MTN Uganda (CEO at Livy's Décor)
Sharline Mustari Kahambu – Quality Assurance, Customer Experience MTN Uganda (Proprietor of Hold it fabric, Go classic, Be African)
2. MTN Women in Business: Excellence in ICT Award
Eugenie Nsubuga Windt of Carlson Wagonlit Travel WINNER*
Annet Kajubi of Xplore World
Sherifah Tumusiime of Zimba Women
3. MTN Women in Business: Excellence in Financial Services Award
Lydia Oile – le Memorial Hospital, Lawsam Chemicals, Tausi Décor WINNER*
Betty Walakira – Health Child
Tatu Nalunga – Iqra High School
4. MTN Women in Business: CEO Of The Year
Amelia Kisakye Kyambadde – Seroma Christian High School WINNER*
Prudence Ukkonika – SK Roma Limited
Angelina Sebanakitta – Wilson Development Services
Janat Sempala – Janat Ladies Centre
5. MTN Women in Business: People's Choice (Survivor of the Year)
Sarah Nkonge – Teacher, Politician, Farmer & Business woman WINNER*
Zaujja Ndifuna – Proprietor, Mbogo Schools
Aidah Nassolo – Restauranteur & Business women
Jane Nabwami – Farmer/Proprietor, Najja Poultry & Animal Feeds
Betty Kabiine – Business woman (Brick making)