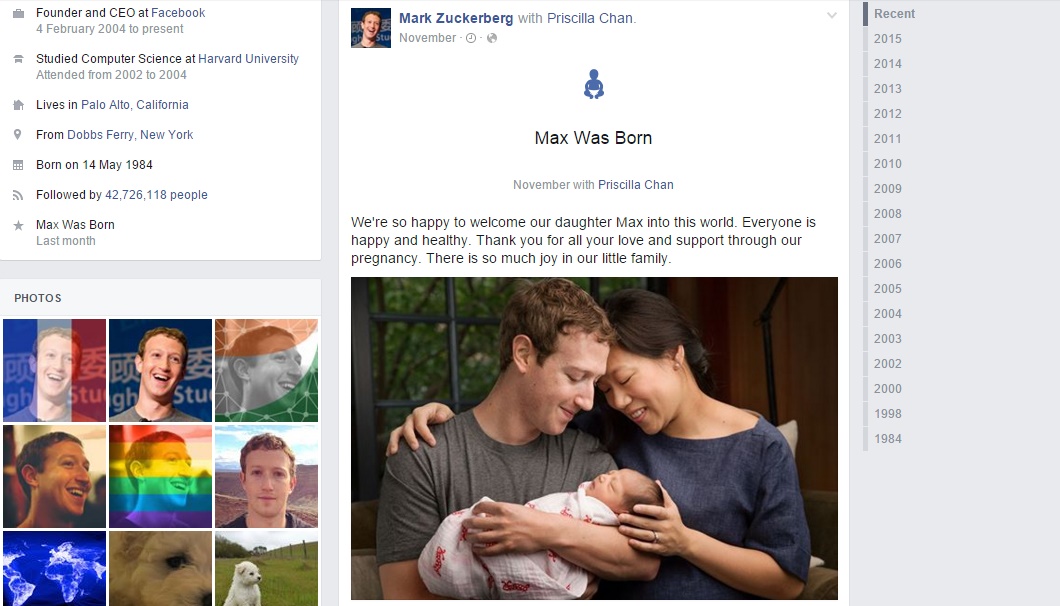 Facebook CEO Mark Zuckerberg and his wife announced the birth of their daughter Max as well as plans to donate most of their wealth, or roughly $45 billion, to a new organization that will tackle a broad range of the world's ills.
Zuckerberg's wife, Priscilla Chan, gave birth last week to a baby girl. The couple didn't put out the news until Zuckerberg posted it Tuesday on of course Facebook.
In the same post, Zuckerberg said he and Chan will commit 99 percent of their Facebook stock to such causes as fighting disease, improving education, harnessing clean energy, reducing poverty and promoting equal rights. They are forming a new organization, called the Chan Zuckerberg Initiative, to pursue those goals.
Zuckerberg and his wife have followed in the footsteps of Microsoft founder Bill Gates and his wife, Melinda, who are donating much of their wealth, including shares of the tech company Gates created, to health-related causes through the Bill and Melinda Gates Foundation.
The Facebook CEO is also partnering with Gates as part of a clean energy initiative called the "Breakthrough Energy Coalition."[related-posts]
Zuckerberg said in a filing with the Securities and Exchange Commission he will "gift no more than $1 billion of Facebook stock each year for the next three years" and that he will retain his majority voting position in the company "for the foreseeable future." 
Similarly, since founding Microsoft in 1975, Gates now owns 4 percent of Microsoft stock after selling shares to fund his charity.
[US News]