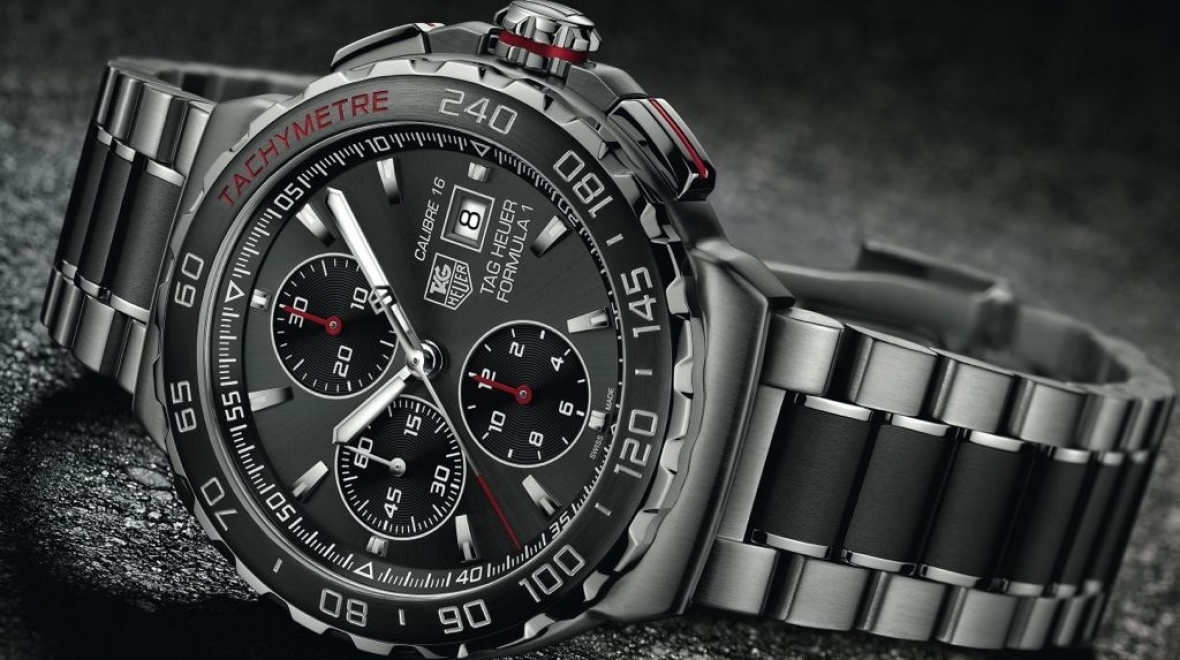 LVMH's Tag Heuer became on Monday the first Swiss watchmaker to offer a "smartwatch" to customers that combines Swiss design with U.S. technology, seeking to tap a growing market for wearable devices amid flagging sales of traditional watches.
Co-developed with Google and Intel, the "Tag Heuer Connected" will cost $1,500. One thousand units are immediately available in 15 stores across the United States, with Britain, Germany, and Japan following in the coming days.
With its titanium casing, black rubber strap and digital watch hands, it is designed to look like a classical watch.
But Connected houses an Intel Atom processor beneath its touchscreen that lets wearers connect to the internet, stream music and run applications via Google's Android Wear platform, from existing favorites such as Google Fit and Google Maps to customized lifestyle and sports apps.
The watch, which electronically tethers to a phone, responds to voice commands and finger swipes. It can give the weather, set up a calendar reminder or tell the wearer how many steps she or he has walked that day, for instance.
The Connected will compete in part against Apple Inc's Apple Watch, which has breathed life into the smartwatch category. With prices of $350 to $17,000 it competes with some traditional luxury timepieces. [nL6N0WM4BN]
Tag Heuer Chief Executive Jean-Claude Biver described the Connected watch as a way to get new customers and warm them up to traditional watches.
"The Apple Watch will never be eternal," Biver said at an event in New York. "Our watch will. It's a big advantage."
Customers can swap their smartwatch for a mechanical one at the end of a two year warranty if they pay $1,500 more, a strategy Biver said allows the company to protect its traditions and cater to younger clientele who might be tempted by Apple.
Asked about potential sales of the new product, he said: "I don't really know … I only have the gut feeling that we're just at the beginning, and that the first (connected) watches are like the first phones we had twenty years ago."
Makers of traditional Swiss watches have largely stayed on the sidelines of the emerging smartwatch market.
But the industry needs a boost. Swiss watch exports posted the biggest drop since 2009 in the third quarter, with a 14.5 percent slip in the 200-500 franc category fuelling concerns the Apple Watch might be taking market share.
Bank Vontobel analysts in October forecast low to mid-market watches would be affected by sales of smartwatches and other wearable devices, and 30 percent to 50 percent of quartz watches would include some smartwatch features in the long term.
Switzerland's biggest watchmaker, Swatch Group, has some connected products at its Swatch and Tissot brands, but has rejected making a "telephone" or "computer for the wrist," as Chief Executive Nick Hayek told a paper in August.[related-posts]
Swatch has also eschewed big tech partnerships, which Biver said were needed to launch a smartwatch such as Connected.
"If you want to offer a smartwatch as sophisticated and complete as the Apple Watch, that is practically impossible for a Swiss company alone," Biver said. "We cannot develop microprocessors to that level."
"Many Swiss watch brands are not keen on partnerships. We were keen because I believed that my price range could be hit by the competition of smartwatches," he said.
The Tag Heuer Connected is, at least initially, being produced at Intel manufacturing sites. It comes without the coveted "Swiss Made" tag, but with the label "Intel Inside" and "Swiss Engineered" on the watch case.
The partnership with Intel and Google was announced in March. Biver said the partners shared development costs, but gave no details.
Biver estimates that Swiss watch exports for 2015 will be close to the previous year, between 1 percent higher and 1.5 percent lower.
[Reuters]