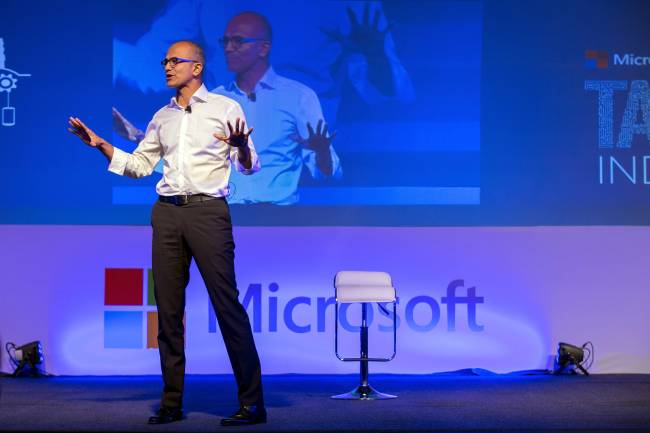 Microsoft chief Satya Nadella is in Mumbai today and has met industry leaders like Mahindra Group Chairman Anand Mahindra, Axis Bank head Shikha Sharma and Tata Starbucks CEO Avani Davda during his one-day visit to India. The India-born CEO also delivered a keynote address at 'Microsoft's Future Unleashed' event here that will bring together 3,000 industry leaders, enterprise heads, developers and entrepreneurs.
At the beginning of the event, Chairman of Microsoft India, Bhaskar Pramanik, took to the stage to unveil the first edition of Future Unleashed. He stated that the company will demonstrate how technology, when in hands of majority, will give boost to innovation.
Next up was Anand Mahendra, Chairman at Mahindra & Mahindra. His keynote was titled, "Small is the New Big." He started off with a rather personal story. Mahindra stated, "Bill Gates and I were in the same college, but our paths never crossed." He points out that, "Social Mobile and Cloud is today's new formula. Digitisation has enabled old economy to come back". He also spoke about the importance of 3D printers and they will change many industries.
Anand Mahindra ended his talk on a lighter note. He referred to a silhouette of Gandhi and made a comment on how Satya Nadella has a similar silhouette. He also added, "Mahatma Gandhi is the Messiah of the digital world."
Next on stage was Mukund Rajan of Tata Sons, talking about building sustainable organisations. He says, "The Tata approach is not a short term approach. We don't think about the next quarter, but the next quarter of century." He went on to talk about Tata's mission to help community, CSR and skill development. The company has also announced an award called 'Dare to Try' for good ideas, even if they've failed.
Next on stage was Chief Minister of Maharashtra Devendra Fadnavis along with Microsoft chief Bhaskar Pramanik. Fadnavis stated, "Maharashtra has always been a preferred destination for businesses. But getting 76 permissions takes around 1 to 3 years." He says, "We want to bring that down to around 23 permissions. We have brought down hotel permissions from 120 to 25."
Fadnavis also said that, "We have brought a lot of services online and we want Maharashtra to be a role model for other states." He voiced his interest on how he would like to work with Microsoft and Satya Nadella to create around 50 smart villages in 2016 in Maharashtra. Bhaskar Pramanik also added that Maharashtra has been a good state to implement the company's ambitious projects as well.[related-posts]
And finally, Microsoft CEO Satya Nadella took to the stage. He starts with, of course, 'mobile first, cloud first'. He said, "While a computer on every desk was our goal when Bill and Paul started Microsoft, I guess the vision was to empower individuals and organisations."
The CEO begins to demonstrate some of the tools he uses on a daily basis. To everyone's surprise, Nadella pulls out an iPhone, but quickly says that, "It's not my phone, but it's an iPhone, but it includes all the Microsoft apps and services. It's a Microsoft phone, really."
He begins to show a page from his OneNote notebook, along with his inbox with the Outlook app from his 950 XL smartphone. He says that the new Lumia 950 will be available in India in next couple of months, but did not offer much information on pricing and availability. He says that the company is not stopping at building a 5-inch or a 6-inch phone. He stated, "I can connect this phone to this dock, and it's a full PC -like experience." Nadella shows off his Microsoft Band as well.
Nadella said, "Every successful company has a core. For us it is about empowering every person to achieve more. We have three interlocking ambitions. First is about reinvention of productivity and business processes." He adds, "Work isn't a solo experience anymore. The idea of harnessing the power to network is what we want to do with our services."
Nadella begins a demo with the Windows 10 apps, Continuum, health analytics. The Delve analytics gives you insights about your work time too! There's a PowerBI for business intelligence as well.
Talking about India, Microsoft CEO also says that he is inspired by the work done in the field of education in the country. In addition, he points out that a lot of exciting work is happening in the startup and e-commerce space in India.
Continuing, Satya spoke about Hololens. He believes that this is first time in our history that we are able to superimpose digital content on our analog world. He says, "Think about the change in landscape this will bring in architecture, healthcare etc." He added, "If I had the power of Hololens growing up as an Electrical Engineer, I would've understood Maxwell's equations better!"
A video demo of StaffPad went on and showed that A.R. Rahman is a big user of StaffPad and Surface. The final announcement made by the CEO was the news that the Surface Pro 4 is coming to India in January. He also announced that India will be getting the Lumia 950XL very soon.
Telecom Minister Ravi Shankar Prasad was next on stage to talk about Digital India. He thanked Bill Gates for his humanitarian work in India. He quoted PM Modi and said, "Indian Talent along with Information Technology is 'India Tomorrow'. Prasad went on to talk about Digital India initiatives such as common service centres and rural BPO schemes.
Prasad also went on to state that, "Microsoft Cloud services are being appreciated by Telecom Minister. But he wants the company to work even more closely with the government. "If digitisation tech has to succeed in India, it will do so on the back of local languages", he added.
He went on to state that we have 980 million mobile phone connections in India, 930 million Aadhar profiles along with 5 lakh Aadhar based digital identities being activated daily.
[
FirstPost
]