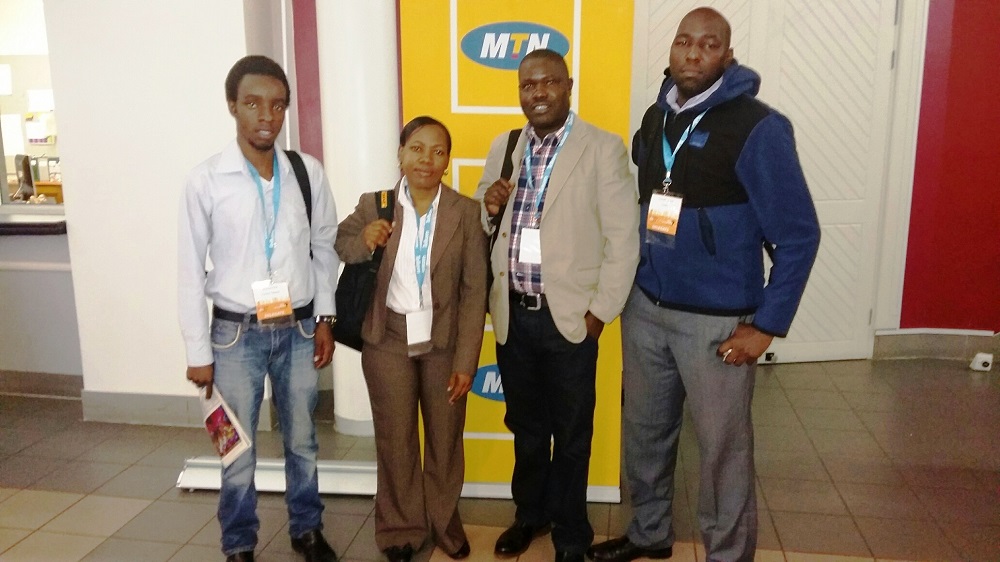 Three Ugandan journalists; Ms Faridah Kulabako, Business Reporter with New Vision, Ismail Ladu, Business Writer Daily Monitor and Edwin Niwarinda Junior, Entertainment Editor with Big Eye, an Online publication  were part of the delegates of The 19th edition of Highway Africa Conference that came to a conclusion on Monday 2nd September 2015  at Rhodes University, Graham's town South Africa with a challenge to participants to uphold the cardinal rules of excellence, a mandate that the media owes its readers.
Key note speakers at the Conference such as the co-founders of Highway Africa Conference, Roland Stanbridge and Professor Emeritus Guy Berger as well as the Chief Executive Officer of African Media Initiative Mr. Erick Chinje all pointed at the need for Africa journalists telling stories that reveal what the continent is truly about and not a perpetuation of the tired global stereotypes.
"African journalism has to play a role in preventing 21st century colonialism" Stanbridge stated. "Our journalism should be aimed at emancipating the knowledge of its citizens about the infiltration of foreign governments and corporations"
The conference brought together media professionals, journalist's academics and members of the Forum of Editors from across Africa and beyond.
The conference provided a platform for exchange of views, sharing of experiences and reflection on the challenges and opportunities of reporting in the continent.
[related-posts]
In his opening remarks, The Vice Chancellor Rhodes University Dr. Sizwe Mabizela outlined the theme; "Journalism and the City" as one whose time has come.
This is because journalists operate in cities where many vices reside. Cities of unemployment, cities of inequality, cities full of crime and unfair distribution and so there is need to build free and independent media that is able to be a critical voice for the injustices that happen in cities and other parts of Africa.
The conference had a number of sponsors which included MTN who has been associated with the Conference for a number of years.
In a Press statement released before the commencement of the Conference, Chris Maroleng, Executive for Corporate Affairs, MTN Group reaffirmed MTN commitments towards promotion of journalism excellence in Africa.
Highway Africa aims to develop a vibrant and growing network of African journalists empowered to advance democracy and development through their understanding and use of appropriate technologies. MTN shares in this vision, and is equally passionate about the advancement of journalism on the continent.
"African journalists hold the responsibility of driving our continent's narrative. As a proudly African company, we recognise the significance of Highway Africa in bringing together these journalists, to engage about issues facing our continent and shaping that narrative", said Chris Maroleng.
The relationship between MTN Group and Rhodes University is now in its eighth year. As part of its support of the conference, MTN has continued to sponsors media organisations in some of its markets to send journalists to the two-day event.
In an exclusive interview, Chris Kibwato, the Director for Highway Africa Center, said: "The longevity of this partnership with Highway Africa is testament to MTN's unwavering commitment to the development of good journalism in Africa. I am most grateful for this continued support given the wider economic challenges South Africa is facing,"