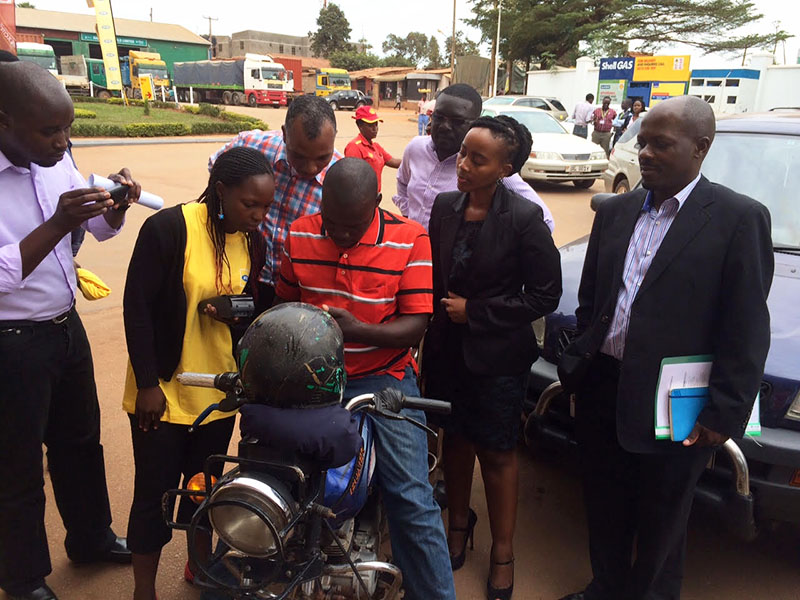 With its mobile money segment showing "encouraging growth" in the first half of 2015, leading emerging mobile markets operator in Africa and the Middle East MTN emphasized that "the continued roll-out of MTN Mobile Money and broader financial services remains a priority". Priority, both because of its contribution to the operator's revenues and its projected significance in Africa's financial future.
Approximately a week ago, the same launched a new payment feature in cooperation with Vivo Energy – the operators of Shell in Uganda. This feature,the latest in a series of mobile money-driven initiatives launched this year alone, allows customers to purchase fuel and other Shell products using Mobile Money. Brian Gouldie, MTN's CEO in Uganda was quoted as to say, "we're embedding Mobile Money into the fabric of society."
Still in East Africa, payments and transfers provider MoneyGram expanded mobile money choices in Tanzania, authorizing subscribers of Vodacom – the leading telecommunication company in the country – to receive money from MoneyGram transfer services directly into their mobile money accounts.
Earlier this year, even international electronic payment processor Visa announced a cross-border mobile money platform to be introduced this October, which is set to enable cross-platform remittance transfers, breaking the current barrier where there is restriction based on the user's network.
Bypassing these operators might stifle the predominantly telecom-operated mobile money systems and will certainly exert pressure on them to come up with creative counter-solutions to secure their leading position in the mobile money market.
Nevertheless, if Visa's platform is successful, mobile money will become available to a broader range of consumers, presumably further narrowing the gap between the banked and unbanked.
So why this inclination to tapping into mobile money ventures and why does it work so well?
Since 2003 a rapidly growing mobile penetration has been observed and more and more people have gradually been gaining access to telecommunication and other mobile services – not only in the developed but also in the developing world. The Global Mobile Economy report from GSMA found that by end 2014 the number of mobile subscribers had increased to 3.6 billion. In comparison to about 10 years ago when only one billion had access to a mobile handset and services, today more than half of the global population own mobile devices and are subscribed to mobile networks.
[related-posts]
This number is predicted to rise by an additional one billion subscribers within the next five years, which will boost global mobile penetration to 60%.
Although the mobile industry continues to face challenges with regulators and policy-makers who risk constraining its growth potential, the speedy progress and promising prognosis have driven the industry to become a platform for creative innovation as well as an indisputable facilitator of a vast number of opportunities in both the commercial and social sector.
In the developing world – specifically in Africa – where the mobile industry struggles to balance steady rising mobile penetration and higher demand for network services with providing affordable high quality broadband, it is remarkable to note that a unique feature has gained momentum. Sub-Saharan Africa has managed to leverage the advancements in mobile technology and now celebrates "Mobile Money" as an alternative to traditional banking systems and interactions.
For instance, there were 255 live mobile money services worldwide and with 53% Sub-Saharan Africa constituted the majority of them, according to the GSMA report 2014. In Kenya alone, the leading country for mobile money payments, African Business Central found that one in six mobile subscribers uses mobile payment, and World Bank revealed that 90% of money transfers through online service WorldRemit are received by clients of Kenya's prominent mobile payment system "M-Pesa".
Aside from the obvious technical reasons, to some extent mobile money's huge success can also be attributed to the financial infrastructure in Sub-Saharan Africa where about two and a half billion people in lower and middle-income households are unbanked.
Yet one billion of them have access to a mobile phone.
This places mobile money in a position to bridge the insufficient financial structures and possibly become the answer to financial inclusion.
Another World Bank report states, remittance flows to the region amount to $33 billion and are estimated to scale up by one billion annually for the next two years. The Diaspora sending money back home greatly contributes to emphasizing the relevance of mobile banking and payment services, thus intensifying and sustaining the demand.
Economist and PhD student Rukundo Nshakira adds that "diaspora remittances make up close to 10% of GDP in Uganda, surpassing the percentage of foreign aid like USAID, who is the country's largest employer after the public service sector".
Uganda's Evelyn Namara, a technologist and social entrepreneur who worked on mobile payment platforms as Beyonic's Regional Manager for East Africa notes that in general remittances from the Diaspora are instrumental to improving local and domestic savings.
"The ability to use [their] mobile wallets to receive payments in very easy steps means that financial services in turn become easier for everyone to access and that boosts the economy," she notes.
With reference to the budding agriculture sector, Namara says "Mobile Money technologies can further be leveraged by building an ecosystem where money stays mobile and thus eliminating the need to cash out."
"If manufacturers, producers of products and consumers can all be connected within the same mobile money ecosystem, it becomes easy to make transactions across the board," she adds.
As such mobile money services harbour immense capacities for the development of countries in Sub-Saharan Africa. Harnessing these capacities to their full potential not only promises economic progress in the region but also empowers marginalized individuals and societies.
Consequently, it is crucial that building a unifying ecosystem that encompasses all sectors and seamlessly traverses spheres of banked and unbanked remains an utmost priority and long-term investment, serving to reinforce sustainable economic development.
Irene Najjemba is a media development enthusiast who advocates for youth engagement in social entrepreneurship ventures in the African Diaspora and beyond. She is a Media and Communication graduate based in Bonn, Germany. You can follow her on Twitter @EyeRainVerses