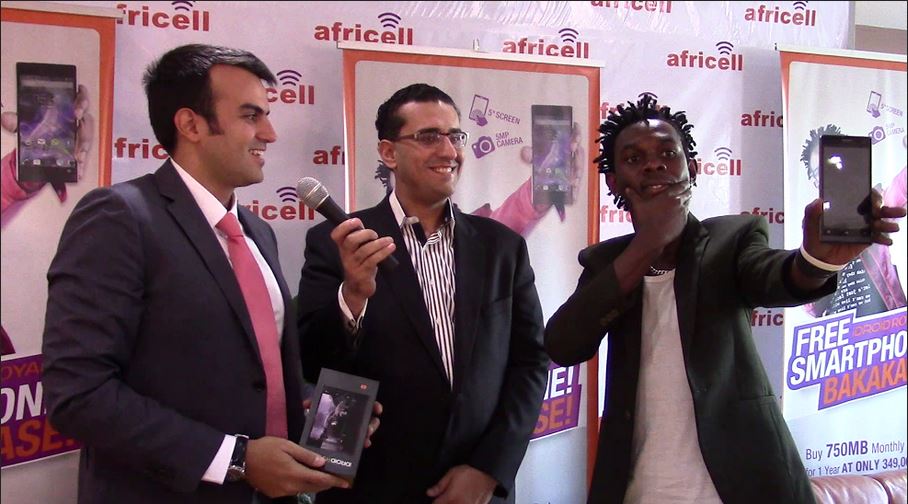 Yesterday, Africell Uganda and iDRIOD USA launched the first "free phone deal" in a campaign codenamed 'Bakakase'—assure them. Africell Uganda is giving away the iDROID Royal V4, a high end smartphone manufactured by iDROID USA.
In the Past Telecoms have given away phones at subsidized prices, but for the first time in Ugandan communication history, a telecom company is giving away a smartphone free of charge! And that Telecom is Africell Uganda Limited!
In normal settings a customer will walk in a shop and buy a phone, but this seems to be headed to change, telecoms seem to be the ones vending the phones on behalf of the manufacturers, and offering them to their subscribers at plans that promote their companies.
Everywhere in the world telecoms have partnerships with phone manufacturers and offer them locked to their service for a contract. So when you want to buy a phone you can walk to the manufacturer's store and pay cash or go to the service provider and get a contract to have the have and pay over an agreed period of time.
Jawad Qureshi the CO-Founder &  Chief Marketing officer of iDROID said  "When iDROID first set foot in Uganda by way of Kampala, our dream was an iDROID Uganda; an iDROID for everyone. Today, I must say, we are home with that dream. Our partnership with Africell on Bakakase is fulfillment of that dream."
All you need to do is to get your free iDROID Royal V4 smartphone, pre-buy one year's data; at discounted price of SHS.349,000 only, which is about $100. Then you get 9GB over a year in 12 installments. The idea is to pay it forward to all Ugandans—ensuring a smartphone for every Ugandan
Customers will not only boast of holding the newest iDROID gem with its sophisticated yet user friendly features, but also enjoy reliable high speed internet all year long—without having to pay a single extra coin.
The iDROID Royal V4 surpasses the demands of a powered smartphone user; incorporating next-generation brilliance and traditional hardness. It comes with the quadcore processor characteristic of all iDROID smartphones, 8GB internal memory expandable up to 32GB, 1GB Ram, 3D and technology. It runs Android lollipop with an extra-solid screen built with guerilla technology communicating sleekness and durability.
The free iDROID Royal V4 smartphone will be available at selected Africell stores effective tomorrow 7th August, 2015.
Since Africell moved acquired Orange, there has been little or no activity in the public eye, so this initiative comes in handy to leverage internet infrastructure investment.