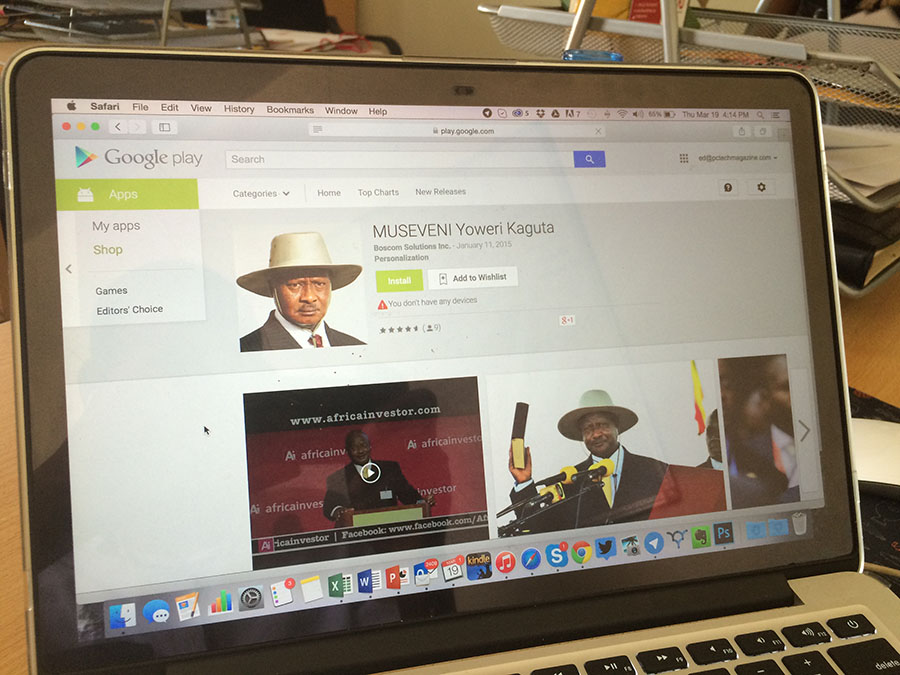 About a week ago, my wife sent me a link to a New Vision story about how Ugandan youth had developed an app to "aid interaction with the president". I laughed it off and bookmarked for later reading. With my schedules lately really swamped, I hadn't read the article. Today, Daily Monitor also published their version of the same story.
I am a little irked by this 'innovation' and the fact that it has garnered considerable real estate in two of Uganda's biggest media houses. Let me summarize why: The group of six youth clearly possessing technical abilities (since they developed the app) reportedly spent 5 Million Uganda shillings (Close to 2000 USD if you forget the current biting exchange rate). They claim that this was their hard earned cash — that I wish they had invested elsewhere.
When I tweeted about this earlier today, someone insinuated that it is no different from verifying the President's social media platforms (effectively equating my role in getting the President's social media accounts verified to the development of this new app).
Not to rain on people's parades but UG does NOT need an app to 'reach' the president!! Folks need to reach useful, agric, educ & econ info!

— Joseph Owino (@JosephOwino) March 17, 2015

Do not get me wrong, I am not against making the President reachable online. In fact, I personally went out of my way to help the Head of State capitalise on the power of social-media to better communicate with his citizenry — and they with him. Likewise, if and when called upon, have done the same for others whose identities I've opted against dwelling on. Democracy is not just about voting but about communication, processes and deliberation. As such, given how I believe the power of social media in democratic reform and nation building — and given that mine and my company's expertise lie in tech and social media marketing — I consider it my civic duty to do so.
Instead my main objections to this particular effort (the app) is two-fold. 1) It is futile and a misapplication (pun intended) of technical know-how. 2) More importantly still, it's less than democratic.
(1) The number of Ugandans who own smart phones on which this app can be installed is abysmal. Even worse is the number of people that can afford the data charges that would be required to stay abreast of President Yoweri Kaguta Museveni's latest activities. (In fact, this app is an example of a pet peeve of mine – everyone is so keen to build an app for everything without genuine consideration of whether an app is the most appropriate technology to solve the problem at hand. People are constantly telling me to build an app for the Owino Solutions product kawowo.com. And while I agree it would be a nice thing to have for a sub-sector of a sub-sector of the population with smartphones and a passion for local Ugandan sports, surely our focus should be on the creation of really top notch content distributed as widely as possible, which for now means through the website and SMS).
On the other hand, there is a large  number of Ugandans who own basic phones but do not have access to even rudimentary development issues such as best practices in agriculture, or youth access to better educational information or resources that can boost their economic endeavours. I am personally in awe of this list of African mobile agriculture services and applications.
How I wish these brilliant youth spent their energy on a solution that was tangible — one that enables Ugandans share more local information that is actually applicable to them. Alas they didn't!
In fact, one might argue that they are not encouraged to do so. That they've actually got noticed because they developed a "Museveni App". It says a lot that if they had another innovation not considered "sexy" they wouldn't get all the media milage they now have.
(2) I find the whole conceit behind the app depressing and illustrative of the exact problems with the state of our political system: Though the app is purporting to use technology and social media to encourage democratic dialogue and exchange through "access to the President" its very essence does the opposite. The app's message: "in order to influence policy in Uganda, you need to interact with the President, or rather Museveni specifically". But democracy is not just about one man! If you want to use social media, to encourage democratic dialogue, that's fabulous. But the fact that they built an app – purportedly to tackle Uganda's development concerns – and decided that users have to bypass all institutions of government in order to be heard, that to me says it all.
An app in conjunction with the Office of the President, or Office of the Prime Minister (and indeed another for opposition parties or the Electoral Commission when the individuals in charge take on topics and reply to inquiries etc.) that is one that we should all get behind.
If on other hand, the app is not intended to have such lofty ambitions but rather just a sneak peek into the life of a political celebrity that is our 'Man in the Hat' that is another matter and I wish them all the best and look forward to knowing what sort of eggs the President eats.
That being said, if you are working on something that can help Ugandans access more local information — local content that leads to a better quality of life in Uganda, Bravo to you! I am your biggest fan and I would like to help in any way I can. Drop me an email!
This article was written by Joseph Owino and first published on his blog.