Smartphones
Samsung Galaxy S6 vs. Galaxy S6 Edge vs. HTC One M9 vs. LG G Flex 2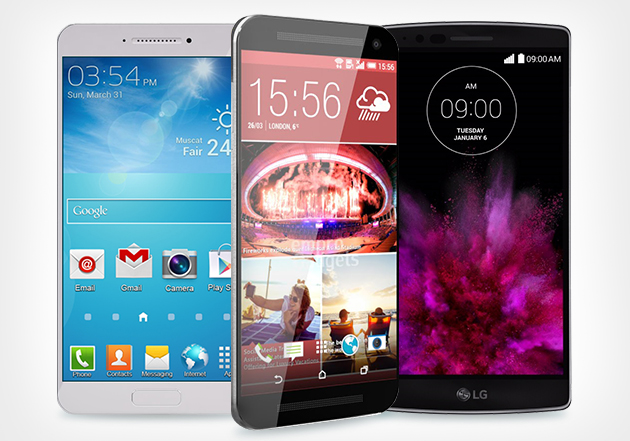 Yesterday, the Samsung Galaxy S6 and Galaxy S6 Edge were unveiled to the public and their specifications were listed.
The phones nolonger have plastic shells and removable batteries.
Let us look at how these phones compare with the competitors flagship devices, LG's new-for-2015 G Flex 2, and the new HTC One M9, announced just hours before the new Galaxy phones.
| | Samsung Galaxy S6 | Samsung Galaxy S6 Edge | HTC One M9 | LG G Flex 2 |
| --- | --- | --- | --- | --- |
| Dimensions | 5.65 x 2.78 x 0.27 inches; 4.8 oz | 5.59 x 2.76 x 0.28 inches; 4.66 oz | 5.6 x 2.7 x0.3-inches; 5.5 oz | 5.9 x 3 x 0.4; 5.4 oz |
| Display | 5.1-inches; 2,560×1,440 pixels; 557ppi | 5.1-inches; 2,560×1,440 pixels; 557ppi; curved display | 5-inches; 1,920×1,080 pixels; 441ppi | 5.5 inches; 1,920×1,080 pixels, 403ppi; curved screen |
| Operating system | Android 5.0 Lollipop with Touchwiz | Android 5.0 Lollipop with Touchwiz | Android 5.0 Lollipop with Sense 7 | Android 5.0 Lollipop |
| 4G LTE | Yes | Yes | Yes | Yes |
| Wi-Fi | 802.11a/b/g/n/ac | 802.11a/b/g/n/ac | 802.11a/b/g/n/ac | 802.11a/b/g/n/ac |
| NFC | Yes | Yes | Yes | Yes |
| Bluetooth | v4.1 | v4.1 | v4.1 | v4.1 |
| Rear camera and recording | 16-megapixel | 16-megapixel | 20-megapixel | 13-megapixel |
| Front-facing camera | 5-megapixel | 5-megapixel | Ultrapixel | 2.1-megapixel |
| Processor | Samsung Exynos | Samsung Exynos | Octa-core Snapdragon 810 | Octa-core Snapdragon 810 |
| Capacity | 32GB, 64GB, 128GB | 32GB, 64GB, 128GB | 32GB | 16GB, 32GB |
| Expandable memory | None | None | Expandable up to 128GB | Expandable up to 128GB |
| Battery | 2,550mAh | 2,600mAh | 2,840mAh | 3,000mAh |
| Wireless charging | Yes | Yes | No | No |
Via CNET