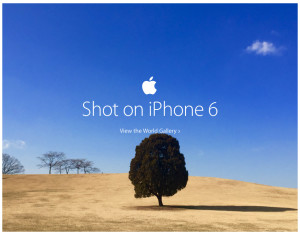 Apple has launched a new campaign on its homepage called "Shot on iPhone 6,″ which showcases photographs taken using the iPhone 6 by photographers around the world.
Apple is planning to rollout the iPhone 6 photography campaign across print media in 70 cities and 24 countries.
The campaign comprises 77 photographers from around the world.
Apple will feature the iPhone photographers and their work on posters at transit stops and stations and in newspaper ads and on billboards. The shots will have to be taken by the iPhone 6 camera.
The World Gallery webpage also highlights the third-party apps such as VSCO Cam, Snapseed, Filterstorm Neue, Instaflash Pro etc. that were used by the photographers to take photographs using the iPhone 6, and apps like Instagram, Flickr to share them.
You can see more photographs from Apple's "Shot on iPhone 6″ campaign on the World Gallery webpage.
Via iPhone Hacks