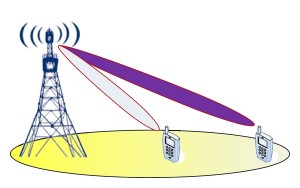 Samsung Electronics and South Korea's largest cellco SK Telecom (SKT) have announced plans to partner to demonstrate '3D Beamforming,' an antenna technology that supports high-speed data transmission, at the Mobile World Congress in Barcelona next week.
SK Telecom says it expects to use 3D Beamforming using millimeter-wave (mmWave) frequency bands to demonstrate a record mobile date speed of 7.55Gbps.
To confirm the development, SK Telecom noted that while millimeter-wave frequency bands have not generally been accepted as a means for cellular communication due to high propagation loss, the technology compensates for this by producing a pencil beam and steering the direction of radio signals.
SKT and Samsung will also reportedly show the 'Full Dimension MIMO' technology which it says utilises tens to hundreds of antennas, greatly surpassing the maximum of eight antennas defined in the current LTE-Advanced (LTE-A) standardisation.
The two companies having previously inked a Memorandum of Understanding (MoU) for joint research in 5G network technologies and new 5G services in October 2014.