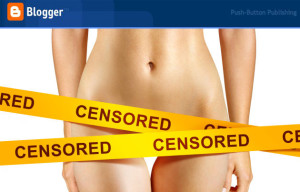 Google today has announced that it has changed its mind concerning banning sexually explicit material on Blogger after an outcry from many long-time users of the blogging platform.
This is just three days since it announced it was banning sexually explicit material on Blogger.
"This week, we announced a change to Blogger's porn policy," wrote Jessica Pelegio, social product support manager at Google, in a post in a product forum. We've had a ton of feedback, in particular about the introduction of a retroactive change (some people have had accounts for 10+ years), but also about the negative impact on individuals who post sexually explicit content to express their identities. So rather than implement this change, we've decided to step up enforcement around our existing policy prohibiting commercial porn."
The existing policy requires blog owners with explicit content to mark them as "adult," which triggers an "adult content" warning page.
The policy change had been set to take effect on March 23, and Google said it would make private any blog with explicit content. Porn was going to be expressly forbidden on any new blogs created after that date.
Two years ago, Tumblr was heavily criticized after removing blogs with explicit content from its search functions. Following a similar backlash, Tumblr also reversed course.
Via VB