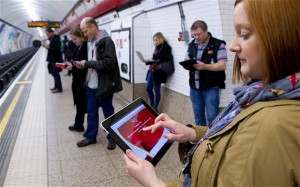 Wi Fi on the London Underground will be charged at £2 from January next year for customer who aren't on the  EE or Vodafone networks
Virgin Media has announced it plans to charge commuters on the London Underground for using its Wi Fi network from this coming January. The network was rolled out and used for free by commuters during the London Olympics earlier this year, but Virgin Media says using it will incur a £2 charge from early next year.
Commuters who are on the EE, Virgin Media and Vodafone networks, however, will continue to enjoy free access to the Wi Fi network. Both EE and Vodafone have signed a deal with Virgin that will allow their customers to continue to connect for free. Mobile phone owners who aren't on any of these networks will have to buy pay-as-you-go passes to access Wi Fi on the Tube.
According to Virgin Media's Executive Chief of Broadband, Jon James, the London Underground's Wi Fi network has been a big hit with commmuters so far.
"Wi-Fi on London Underground has been an incredible success with over 700,000 people already online and a remarkable million sessions every day," Said James
The broadband network currently covers 72 Underground stations but Virgin Media says it plans to connect a further 20 stations to its network in December.
Source: T3