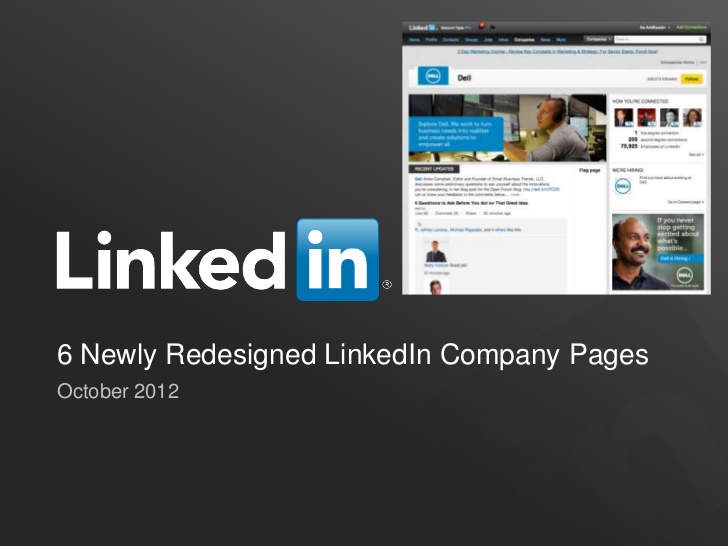 Recently, LinkedIn announced that they have redesigned the look and, to some extent, the function, of their company pages.  For those who don't know, a "company page" is the LinkedIn home page of any company (as opposed to the legions of pages for individuals).
The redesign was only effective for a few select large companies at the start and as of today it's available to all.
As part of this roll out, they introduced the Featured Update functionality, this is more like  Facebook because there is a large "cover image" positioned as a header at the top of the main page, with this companies can highlight important content by promoting it to the top of their Company Updates stream.
We all know a picture is worth a thousand words, so companies have the ability to easily add an image that best represents their company and brand. Like the photo on a member's profile, this image helps companies establish their identity on LinkedIn.
The update stream is more relevant for members, which means companies are able to share status updates and job opportunities with the right members on LinkedIn.
The company summary will no longer be featured at the top, and will instead be found at the bottom.  The ability to post updates will also be prominent.
With a more prominent navigation experience, companies can now easily showcase their company's products, services and career opportunities to members visiting their Company Page.
For the classic tabs, navigation has been head to a sidebar on the right of the screen, where a company finds it's all-important Career section, as well as the Products and Services section.
For members the new streamlined design makes it easier for you to find exactly what you are looking for, whether it's company news and information, career opportunities,  products and services, or insights.
You can find the company updates are front and center, enabling you to quickly comment, like, or share relevant company updates with your professional network.
The LinkedIn mobile app on your Iphone, Android, Ipad will allow people to find and view company pages, which it did not allow before, this is awesome because you can view companies your like on the go.
All of this means it's now easier for you to find, follow and engage with companies you're interested in.
LinkedIn ain't just jobs, folks.  It's one of the many important "web-faces" of your company.  Time to dust it off and make it shine!
Your can find more details here; marketing