Features
Nokia Joins UNFPA to Support Safe Births in Emergencies
Yesterday Nokia joined UNFPA, the United Nations Population Fund and announced that the mobile communications company will donate the equivalent of 3,000 clean delivery kits to the Fund. The donation was made as a result of UNFPA's social media campaign Safe Birth. Even Here launched earlier this year. The kits, designed and distributed by UNFPA, help ensure safe delivery of babies in humanitarian settings.
The campaign, which reports on and tracks safe deliveries in refugee camps and emergencies around the world, is active on Twitter, Facebook and Pinterest, its aim is to raise awareness about maternal health and the challenges faced by expectant mothers in crisis settings. Social media followers are able to spread the good news of a safe birth by sending a message of support to the family and midwives as well as donate a clean delivery kit.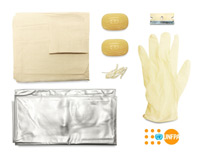 This clean delivery kit is a key component of ensuring safer, healthier births in emergencies and helps save the lives of pregnant woman and their babies. The kit provides the most basic essentials for preventing fatal infections. It includes a bar of soap, a clear plastic sheet to lie on, a razor blade for cutting the umbilical cord, a sterilized string to tie off the umbilical cord, a cloth to keep the mother and baby warm, and latex gloves. Thousands of these kits are shipped by UNFPA every year as part of a rapid response in humanitarian crises.UNFPA and Nokia hope that the donation will encourage the general public to participate in the campaign and decision makers to advocate for maternal health in emergencies. "These mothers and babies are exposed to trauma, malnutrition, disease and violence. Not only are their lives in great danger, but their needs are often overlooked,'" says UNFPA's Executive Director, Dr. Babatunde Osotimehin, "This is why we are at the forefront with our partners, delivering reproductive health services and working to ensure the specific needs of women and girls are factored into our humanitarian response."
More than 287,000 women die each year – one every two minutes – from complications of pregnancy or childbirth. The risk of dying in childbirth increases enormously in disaster settings, where typically one in five women are pregnant.
Credit: unfpa