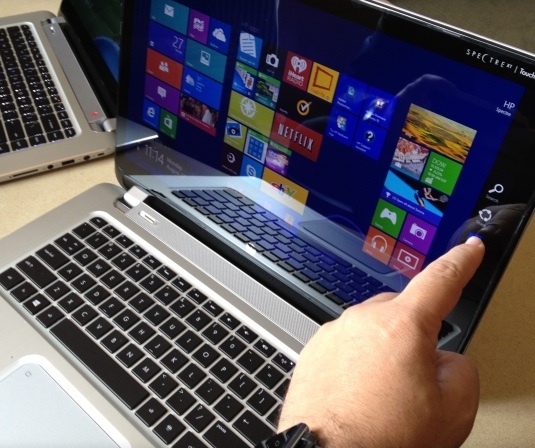 And it's made more significant by the fact that Apple has rejected the idea of a hybrid device via Tim Cook's refrigerator-toaster analogy. Which gives Apple's less-nimble Silicon Valley neighbor, Hewlett-Packard, a rare leg up.
Just check out HP's Spectre XT TouchSmart Ultrabook. When I saw this, it instantly killed any craving I had had for Apple's MacBook Pro Retina.
The XT not only has a touch screen but a gorgeous one at that an IPS 1,920×1,080-pixel 15.6-incher.
It's pricey starting at $1,399 but that's still about $800 less that Apple's cheapest Retina Pro.
Of course, not to mention all of the convertibles that were announced, like HP's Envy x2 (nor Microsoft's Surface tablet announced in June).
That's another hole in Apple's armor. Take the x2. You use it like a regular laptop, then, when the spirit moves you, detach the screen and use it as a tablet. (The only major downside I see right now is the display: a 1,366×768 screen is too pixelated and pales against the iPad's 2,048×1,536 Retina screen.)
But focusing on standard clamshell laptops here. I don't know about you, but I like the idea of a laptop with a touch screen. All of the electronics are still under the keyboard — not behind the tablet's screen which allows HP to pack in powerful processors and graphics.
Or to put it more simply, why not buy a laptop with a touch screen? It's there if you need it.
Is Apple vulnerable? You bet.
Source: C|net