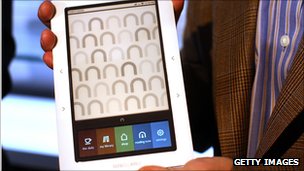 Amazon customers now buy more Kindle titles than paper versions.
Waterstone's is currently in the midst of a shake-up after being bought from HMV Group by Russian businessman Alexander Mamut.
James Daunt was brought in by the new owner in an attempt to reverse its declining sales.
Entering the hardware market would be an ambitious move for Waterstone's and likely involve it partnering with a major electronics company.
Barnes & Noble teamed-up with Taiwanese manufacturer Foxconn – best known for making the iPhone – in 2009 to create the Nook.
The American retailer predicted last month that it would sell around $1.8bn (£1.1bn) in Nook e-books by the end of the financial year.
Amazon does not provide a detailed breakdown of e-book sales and has never revealed the number of Kindle devices sold, other than to say it is in the millions.
However, Mr Daunt believes that Barnes and Noble has managed to claw back market share from its online rival by linking the electronic product with its high street stores.
Nook owners are allowed to read for free in Barnes and Noble stores for up to one hour each day.
"We in Waterstone's need to offer you a digital reader which is at least as good, and preferably substantially better, than that of our internet rival, and you will have a much better buying experience purchasing your books through us," Mr Daunt told BBC Radio 4's You and Yours programme.
Waterstone's e-reader project was "well down the planning line", according to Mr Daunt, and would launch in Spring 2012.
Source: BBC News