News Archive
Rwanda to host Global Broadband Commission for Development this week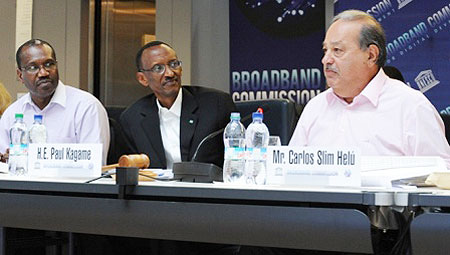 "The Commission brings together some of the world's leading figures in government, industry, academia and development community to draw strategies for using technology to address some of the world's most intricate and complex developmental challenges facing mankind," David Kanamugire, the Permanent Secretary in the Ministry of ICT, said in an interview.
He added that despite the proven benefits of broadband technology, there is always a risk of these technologies taking decades before benefits trickle down to the billions of people in the world that need them.
"Failure to timely seize the technological opportunities renders nations and their societies trapped in poverty and unable to effectively compete on the global arena."
The two day meeting will also bring together African Ministers of ICT, regulators as well as youth from around the continent.
The first day of the meeting will see the commissioners and African policy makers interact with the African youth on broadband opportunities and challenges faced by the youth. On the second day, President Kagame will co-host the commission meeting together with Slim.
Source: New Times, Rwanda