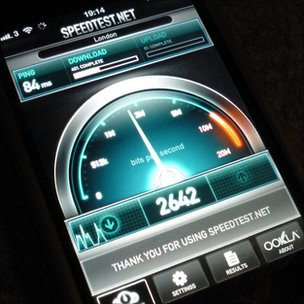 Mobile operators offer their own coverage maps but no independent survey has yet been carried out.
Measurements will be made using an app developed by network analysis firm Epitiro.
The software can be downloaded by anyone with an Android handset and will record street level coverage across Britain.
There is no iPhone app at present, because of the difficulty in making Apple devices collect such information in the background while other programmes are running.
At the end of the test period, the BBC aims to display the results on a clickable map.
"Coverage is the number one issue for consumers," said Gavin Johns, chief executive of Epitiro.
Data hungry
According to Ofcom, there are over 12 million smartphones being used around the UK and a good service is crucial for the web browsing that more and more people demand from their handsets.
"Our coverage app will provide the information consumers need to see if 3G services are available and from which mobile operator. As mobile broadband is important to many of us, we hope people volunteer and make the project a success," said Mr Johns.
Most people have an anecdote about poor mobile coverage and it depends on a variety of factors including whether the user is indoors or out and what time of day they are using the network.
When a phone connects to high-speed 3G broadband services it will typically display a 3G or H symbol by the signal bars. The UK's average mobile download speed is 1.5Mbit/s. In areas of good 3G coverage, that figure rises to 2.1Mbit/s.
Alternative technologies include EDGE, which has a maximum speed of 0.3Mbit/s. Phones typically display an E symbol when using the system.
When consumers get a circle or 'o' symbol it is unlikely that broadband services will work satisfactorily, regardless of the number of signal strength bars.
Switching from 2G to 3G can make a dramatic difference to data speed
Compare the market
Coverage is an issue that regulator Ofcom describes as a priority. It estimates that in terms of land mass, 91% of the UK has 2G coverage and 76% has 3G coverage.
It is conducting its own tests on UK mobile notspots – areas of low or no service. The research is due to be published later this year.
A consultant report, commissioned by Ofcom stated: "More information on coverage is required, and this should be in a standardised format enabling comparison between operator services such that users can make an informed decision about coverage in their area.
"Whilst postcode-based checkers go some way to this, their accuracy is limited to the point at which they have limited value."
O2's chief technology officer Nigel Purdy agrees that the current coverage checkers which rely on predictive modelling are not entirely accurate.
His company, along with other operators, conducts its own, more in-depth tests – including drive-bys – to see what coverage is like in a particular area and to plan where to place new base stations.
The challenge is "to get that data in a format for easy access for our customers," he said.
A similar project to map mobile signal strength globally has been carried out by opensignalmaps.
Building blocks
Operator 3 is calling for change in the way consumers are informed about coverage.
"There is no common standard for measuring coverage and some operators tend to grossly exaggerate. We like to manage people's expectations," said Phil Sheppard, 3's director of network strategy.
One of the biggest challenges for 3, which owns high frequency 3G spectrum that is not great at penetrating buildings, is ensuring coverage when people use their phones indoors.
The problem will be solved, to an extent by gaining access to lower frequency spectrum that will be freed up by the digital switch-over.
Ian Fogg, an independent telecoms analyst, said that all operators struggle with indoor coverage.
"It is much easier to predict outdoor coverage. Indoors it will depend on the structure of the building. Thick concrete walls will block signals much more than a wooden structure," said Mr Fogg.
As homes become ever more energy-efficient, so the problem is exacerbated as highly insulated houses tend to block mobile signals.
Spectrum that will allow 4G services is not due to be released until at least 2012.
Meanwhile 3 is busy adding more base stations. It now has 12,653 sites around the UK. It site-shares with T-Mobile and will gain more locations following the T-Mobile and Orange merger.
But mobile masts bring their own challenges, according to Mr Purdy.
"Everyone craves good coverage but when we rock up to build a site near them it can cause problems," he said.
In urban centres, where more masts are needed at roof-top level, the challenge is finding a suitable rental price, he added.
Need for speed
The BBC survey will not measure speeds, but this is becoming increasingly crucial as people use their handsets
 for downloading and web browsing.
Ofcom, in conjunction with Epitiro, recently carried out a national test.
In those speed tests, O2 and Vodafone came out on top, averaging between 2 and 3Mbit/s, compared to Orange which managed between 1Mbit/s and 1.5Mbit/s.
Broadband comparison website Top10.com released its own 3G speed app this year and it found that Milton Keynes had the slowest 3G speeds at around 1.73Mbit/s compared to 3.6Mbit/s in Peterborough.
Mr Fogg thinks that, if enough people download the UK mobile map app, it could play a valuable role in helping improve coverage.
"One of the key solutions is identifying the problem. X network's may only be terrible in certain locations and this survey will provide better information for operators," he said.
Source: BBC News