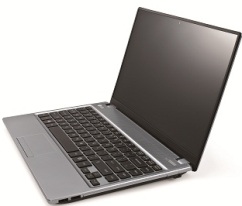 The P530 has a 15.6-inch LED LCD screen that offers outstanding features, which sets it apart from competitors in slimness, weight and material.
"The Blade series is the fruition of many months of effort by LG engineers and designers to develop portable computers that deliver beyond the performance, looks and value that today's consumers have come to expect," says Michael Bang ,General Marketing Manager for LG Electronics South Africa.
"By leveraging tomorrow's technology and breakthrough design, LG will continually offer slim, beautiful notebooks that raise the bar in portable computing."
The minimalists, sophisticated design of the P530 feature a super-slim LED LCD screen, bezel and body, creating a new style icon for fashion-forward consumers. The notebook's new display technology, developed in collaboration with LG Display, allows the LED LCD screen to be incredibly thin while still delivering rich, sharp images. With a depth of 4.7mm, the screen of the P530 is up to 50 percent thinner than any other notebook in its class.
Thanks to the second generation Intel Core i7 processor, the P530 boasts outstanding performance. Intel's new quad-core processor is 20% and 50% faster than the previous generation Intel Core i7 processor and the second generation Intel Core i5 processor, respectively.
The notebook also include NVIDIA Graphics GeForce GT520M – which boasts 50% better performance than integrated graphics cards – to deliver exciting, game-friendly graphics.
The P530 include an array of multimedia features including a 1.3 HD webcam, SRS and DLNA technology to easily share and enjoy photos and videos with other DLNA-enabled devices.
LG's P530 Blade Series notebook will be available in South Africa from August 2011 at a recommended retail price of R7,000.
Source: itnewsafrica