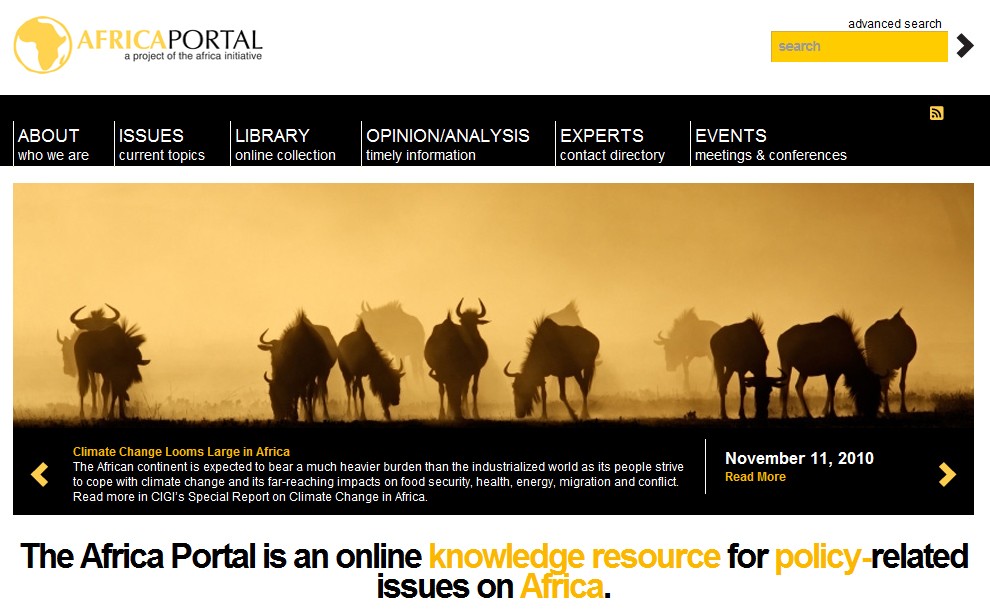 The Africa Portal offers open access to a suite of features including an online library collection, issues section, experts directory, and international events calendar — all aimed to equip users with research and information on Africa's current policy issues. The Africa Portal's online library collection holds over 2,500 books, journals and digital documents. The entire online repository is open access and available for free, full-text download. A portion of the digital documents housed in the library have been digitized for the first time as an undertaking of the Africa Portal project.
The Africa Portal is part of CIGI's larger Africa Initiative, a multi-year, donor-supported program that aims to contribute to deepening Africa's capacity and knowledge in five thematic areas: conflict resolution, energy, food security, health, and migration, with special attention to the cross-cutting issue of climate change.
"The Africa Portal is a landmark addition to Africa's knowledge repository that will contribute to the making of informed decisions by policymakers," comments Dr. Nelson K. Sewankambo, director of the Africa Initiative and principal of Makerere University's College of Health Sciences. "Important research and analysis from across the continent that was previously inaccessible is now open and readily available to all Africans and other interested users."
For more on the Africa Portal, visit www.africaportal.org.
---
About CIGI
The Centre for International Governance Innovation(CIGI)is an independent, nonpartisan think tank on international governance. Led by experienced practitioners and distinguished academics, CIGI supports research, forms networks, advances policy debate and generates ideas for multilateral governance improvements. Conducting an active agenda of research, events and publications, CIGI's interdisciplinary work includes collaboration with policy, business and academic communities around the world. CIGI was founded in 2001 by Jim Balsillie, co-CEO of RIM (Research In Motion), and collaborates with and gratefully acknowledges support from a number of strategic partners, in particular the Government of Canada and the Government of Ontario. For more information, please visit www.cigionline.org.