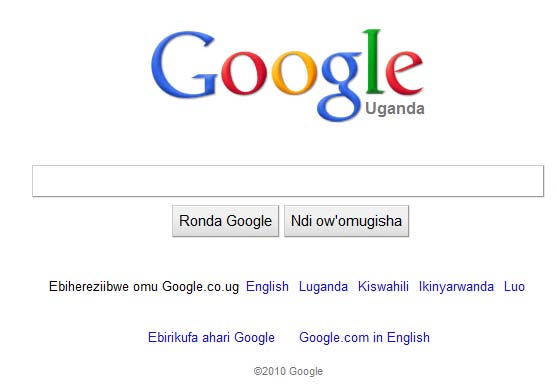 The languages were launched as part of an ongoing volunteer program known as Googlein-Your-Language, which is designed to give anyone the tools to translate Google services into languages in which they are fluent.
Thanks to this program, as well as Google's other efforts to localize products, the Google homepage itself now appears in more than 100 languages.
In the case of these two new Ugandan languages, a group of IT and language students at Makerere, professional translators and journalists, led by Makerere IT staff member Florence Tushabe, came together to translate and review over 10,000 English words.
"A group of 30 people took part in intense discussions that culminated in the formulation of new words and the adaptation of existing ones to represent the technical computing jargon. It was very fulfilling", said Florence, speaking about some of the challenges involved.
Dean of IT faculty at Makerere University, Dr. Josephine Nabukenya, speaking at the launch remarked, "It is estimated that only 10% of Uganda is computer literate. Local language versions of technology, such as in Google Search, will reduce this intimidation and allow wider group to interact more freely with the internet, eventually leading to increased publishing in local languages".
Denis Gikunda, Project Manager at Google said "It is truly exciting to see a group of people so passionate about technology and their native languages. This initiative is a great example of how the internet encourages user participation from cultural and linguistic communities."
Google continues to adapt its products for local users across Africa, whilst meeting international standards, and plans to increase local language support to more products. In addition to 5 Ugandan languages, Google previously launched Trader, an SMS classifieds service and SMS Health Tips, with Uganda selected as the pilot country globally.
But some people have questions about "Runyakitara" as not being a natural language. They claim it was set up by Makerere University for academic purposes.