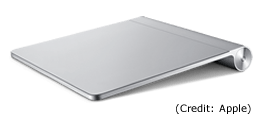 The Magic trackpad features, Bluetooth Wireless technology allowing even more freedom at more than 30 feet, it can be coupled with Apple's Wireless Keyboard for a memorable experience, it comes with a four month battery life, an additional battery pack is also available.
With its multi function surface doubling as a button, users can click; double-click and still scroll, swipe and rotate on the same wear-resistant glass surface . For users who have been tinkering with the I-phones, Mac Book Pro and now the I Pad , this track pad will extend their imagination to their Desktops.
If you are new to Mac, then this Magic – Pad may require some time of training, but don't worry, it's just a matter of finger-tapping! So go get your Magic Trackpad for as little as $69 and start tapping Magic on your Mac.
---
The New I Macs were announced Tuesday, featuring new Intel Processor technology and Faster Graphics Cards.
The I Macs come with Core i3, i5 and i7 processors to increase processing power by nearly 50% of the previous generation of I Macs.
Users can also still customise their I Mac for an extra fee. The New 21.5″ I Mac is built with a 3.06 Ghz i3 Processor and a 256MB GDDR ATI Radeon HD 4670 Discrete Graphics Card, its High-End 27-inch companion comes with a 2.93 Ghz Quad Core i7 Processor, a massive 2 TB, 256GB solid-state drive (SSD), and up to 16GB of RAM. Delivering more power, a richer Graphics experience and more storage.