H.E. Jessica Alupo, the Vice President of Uganda who was in the Teso sub-region, eastern Uganda on Wednesday launched the Digitruck Project in the region — simultaneously officially launched the 2023/24 Huawei ICT Competitions in Uganda and also awarded the outstanding students that emerged 2nd at the global Huawei ICT Competitions 2022/23 in Shenzhen, China competing against other university students from top performing countries in ICT.
"I congratulate the students for positioning Uganda's name high in the global Huawei ICT Competitions," said Alupo. "I encourage students from different universities across the country to participate in the forthcoming Huawei ICT Competition 2023/24 as well as participate in more Huawei competitions because, through such competitions, you get a chance to be employed by Huawei and others in other good entities."
Alupo emphasized that through the use of ICTs, the students can have the chance to open up opportunities for themselves and others.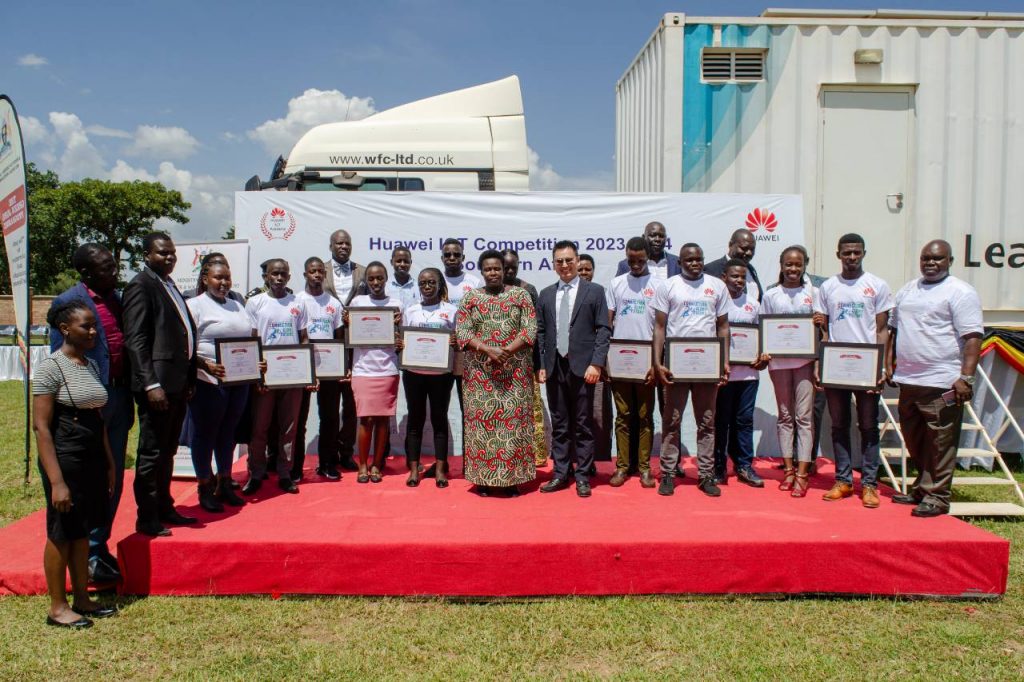 Huawei has signed cooperation agreements with over 250 universities in 14 Sub-Saharan countries on establishing Huawei ICT academies. This cooperation has enabled more than 7,000 university students to obtain Huawei ICT certification, which makes them better candidates for ICT-related jobs.
The annual Huawei ICT Competition is a key piece of the ICT Academy Campaign. It targets university and college students worldwide, aiming to facilitate communication between schools, enterprises, and governments while building a robust talent ecosystem. Through this competition, Huawei aims to challenge the students' ICT knowledge as well as practical and application skills, and ultimately, inspire innovation with the theme of "connection, glory, future".
Mr. Gao Jian, the Deputy Managing Director of Huawei Uganda said, "Huawei ICT Competition is an international competition and exchange platform aimed at providing students with a platform to compete and exchange ideas, thus enhancing their ICT knowledge and practical skills as well as increasing their ability to innovate by using new technologies and platforms."   
After seven years of development, the competition has become one of the biggest event of its kind in Africa covering the latest technologies such as cloud computing, Artificial Intelligence (AI), mobile networks, and big data, that are pertinent to students' competitiveness in the job market.
With a series of talent development campaigns, including the ICT competition, Huawei hopes to skill up more than 700,000 ICT professionals by the end of 2023. The aim is to bridge the ICT talent gap, increase academia-industry communication, and advance the digital transformation of industries.
Alupo applauded Huawei Technologies Uganda for their support and the opportunities they have created for Ugandans to explore their potential on a global level in ICTs.
Gao expressed his gratitude to the government, all partners, and the general public for all their support towards the drive of narrowing the digital divide in Uganda. "Let us all join hands to have a fully connected and intelligent world using the latest emerging technologies."
While closing the ceremony, Alupo wished luck to all students that will be participating in the Huawei ICT Competition 2023/24.