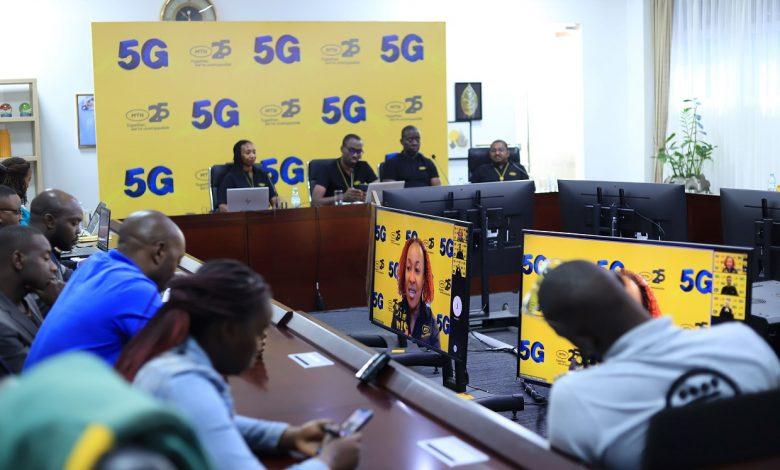 MTN Uganda today marks another significant milestone by going live with its next-generation 5G network with the rollout having started with sites in Kampala at Lugogo and Bugolobi areas delivering higher peak data speeds, ultra-low latency, increased reliability, and greater network capacity.
Addressing the press at MTN Uganda Headquarters in Kampala, Ms. Sylvia Mulinge, the CEO of MTN Uganda, expressed her excitement, remarking "We're incredibly proud to go live with a 5G network in Uganda, and we firmly believe that this cutting-edge network service will play a pivotal role in driving ICT solutions for economic growth and fostering unparalleled digital experiences for all Ugandans."
Mulinge further said, "For the past two years, we have been actively innovating around the potential of 5G with our partners and we are confident that we have built a strong foundation to grow and support our 5G ecosystem to deliver an exceptional experience for our customers." She emphasized that this momentous event represents a leap forward for Uganda's technological landscape.
Mulinge extended gratitude to the Uganda Communications Commission (UCC) for granting the telco the 5G spectrum license, reflecting the shared vision of driving economic growth and empowering Uganda in the digital era.
UCC has set ambitious targets, and the telco has confirmed that it is committed to meeting these targets.
Mr. Ali Monzer, MTN Uganda's Chief Network Service and Information Officer (CTIO) revealed that work to fulfill these commitments to UCC has already commenced, with plans to have all the MTN sites across the country upgraded to 5G in the next two years.
Within 12 months, the goal is to achieve internet speeds of at least 50 Mbps and provide 100% indoor coverage in Kampala (CBD areas) by the end of July 2024. These milestones are expected to fuel growth in the ICT sector and solidify MTN Uganda's dedication to driving digital solutions for Uganda's progress.
With the telco gradually rolling out 5G Monzer says customers can soon expect to see the 5G icon on their compatible smartphones and devices, ushering in an era of unparalleled connectivity and digital experiences.
Monzer highlighted the transformative impact of 5G network service on businesses in Uganda, bringing greater efficiency and productivity to industries. He pointed out that the revolutionary technology will complement the telco's growing fiber and 4G network.
Today's events come on the back of the government's allocation of 5G spectrum to MTN in June but is also the culmination of extensive 5G trials and testing first in 2020 and most recently in April 2023 when MTN Uganda and partners Huawei, and Hima Cement collaborated to showcase the first commercial 5G use case. This exemplified how investing in 5G technology future-proofs MTN Uganda's infrastructure and positions Uganda competitively in the global digital economy.
As part of its Ambition 2025 strategy, MTN Uganda continues to invest in infrastructure and partnerships to remain at the forefront of the telecommunications industry, providing faster, more reliable connections to its customers and revolutionizing the way businesses operate in Uganda.
By embracing 5G, MTN Uganda seeks to open doors to more investments, foster innovation, and position Uganda as a digital hub in the region.
This significant advancement is poised to impact every aspect of daily life, from transforming industries to enriching entertainment and catalyzing innovative breakthroughs that will shape the future. In ideal conditions, 5G is up to 100 times faster than its predecessor, 4G, and drastically reduces data transmission latency to 5 milliseconds, significantly enhancing user experiences across various digital applications.
5G technology will unlock the full capabilities of next-generation services such as virtual and augmented reality, ultra-high-definition video streaming, artificial intelligence, robotics, automated cars, and the Internet of Things (IoT).
ALSO READ: AIRTEL UGANDA SECURES 5G SPECTRUM, GOES LIVE IN 50 SITES IN CBD