Challenge
Innovation
News
Opportunities
Heifer Launches The Second Edition of the Ayute Africa Challenge
Heifer International will reward three agritech innovation a share of UGX70 million if they emerge as winners of the second edition of the Ayute Africa Challenge.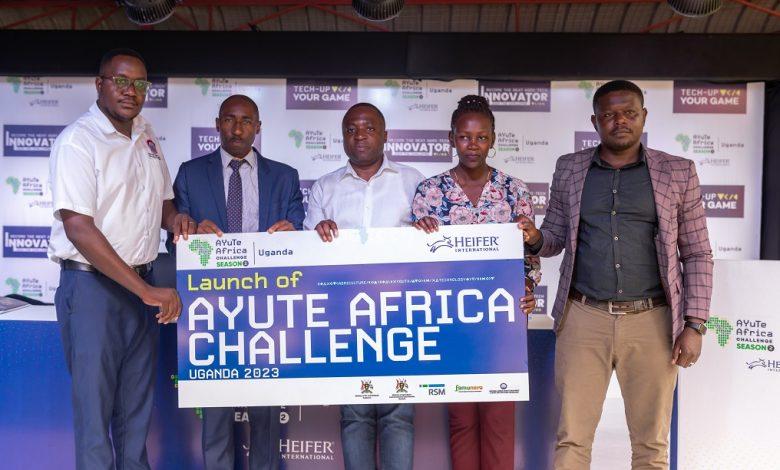 Heifer International Uganda together with its partners today has launched its second edition of the Ayute Africa Challenge Uganda — calling upon techpreneurs across the country with AgriTech innovations to participate in the challenge.
Deus Muhwezi, Commissioner of Agribusiness at the Ministry of Agriculture, Animal, Industry, and Fisheries in his absence at the launch, said in a press statement that the challenge will receive full support from the government. He noted that the challenge is important because of its focus on providing innovative solutions for smallholder farmers who are the backbone of the country's agriculture sector.
The challenge is open to innovators/techpreneurs between the ages of 18-35 with Agritech innovative solutions that can be of a meaningful impact on smallholder farmers across the country.
Heifer has begun accepting applications and only successful participants will be contacted. Of the shortlisted innovations, the three (3) that emerge as winners will share UGX70 million. In addition, they will receive technical support from a team of experts to help them scale their innovations. They will also receive mentorship from experts at Famunera, EzyAgric, and National Animal Genetic Resource Centre & Databank.
In order to address the low participation in the agricultural sector by the youth, the 2023 Ayute Africa Challenge has been laced with incentives both financial and in-kind that will spur the youth to sign up. Furthermore, regardless of gender, ethnicity, or socioeconomic background, there will be equal access to opportunities and resources, fostering a more equitable society.
The Ayute Africa Challenge is committed to fostering a culture of innovation by supporting and nurturing the next generation of agritech leaders. "We believe that young innovators hold tremendous potential to drive transformative change in the agriculture sector," Mr. William Matovu, Country Director of Heifer International, told the press.
Mr. Matovu noted that the challenge aims at providing a platform for young innovators to showcase their ideas, gain recognition, and connect with industry experts who can help bring their innovations to market. He adds that on top of identifying the youth with brilliant innovations, the challenge will also create an environment where they are equipped to succeed in areas of production, finance, strategy, marketing, and sales, among others.
How to participate:
Record a 2-minute video introducing yourself and demonstrating how the proposed innovation works, what problem it seeks to solve, how it can potentially translate into a meaningful impact for smallholder farmers across the country, and how much money you would need to bring it to life.
After recording, submit the video to https://ayute.africa/uganda.
Eligibility:
The challenge is open to Ugandans aged 18-35 years with Agritech innovations/startups.
Must have the potential to translate innovations into meaningful impact for smallholder farmers across the country.
Must show that there is demand among smallholder farmers for what is being provided and that it's affordable.
Innovation must be a truly innovative product/service with potential for growth, viable market, and note merely duplicating something that exists in many other markets.
The Ayute Africa Challenge Uganda edition will run from July 26th to August 25th, 2023.
The inaugural edition was a success receiving 254 applications — which saw interesting and promising innovations; a solar-powered walking tractor, a solar-powered irrigation system made from recycled waste pieces, and a disease-free tomato grafting, emerge as winners.
ALSO READ: WFP IN SEARCH OF INNOVATION THAT OFFER RELIEF, FOSTER RESILIENCE & END HUNGER