Africa
Challenge
Entrepreneurs
Innovation
News
Opportunities
Anatoli Kirigwajjo Emerges as Overall Winner in the 2023 Africa Prize For Engineering Finals
Anatoli Kirigwajjo from Uganda and Edmund Wessels from South Africa were crowned as the overall winners in the Africa Prize finals.
For the first time ever, the Africa Prize For Engineering competition had joint winners; Anatoli Kirigwajjo from Uganda and Edmund Wessels from South Africa tied in first place after presenting their innovations YUNGA and FlexiGyn respectively to a panel of judges. The two engineers were crowned as the overall winners of the competition and each received a cash prize of £25,000.
Anatoli Kirigwajjo and Edmund Wessels were among the four finalists who were selected from a shortlist of 15 innovators for their proven ability to harness engineering to address common problems faced by Africans across Africa. Their innovations tackle challenges central to the UN's Sustainable Development Goals.
Kirigwajjo has developed YUNGA, a local digital security network that connects neighbors to each other and police within a 20km radius via a physical device, smartphone app, or SMS service, to provide security at a low cost. "We hope that with our household networks, communities will become harder targets for criminals," Kirigwajjo told the judges.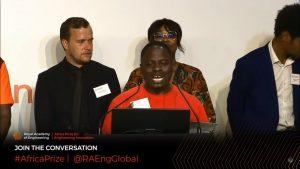 After being announced as the winner in the competition, we couldn't reach him for a comment but in his acceptance speech, Kirigwajjo said, "This is amazing. This is historical. This is safety across Africa. If there's anyone that has learned a lot during this program that is me and thanks to Katrina from the Royal Academy of Engineering (RAE) that taught me beyond the technical skills, I respect her so much for her kindness and guidance, and this recognition goes to her as well. For very many reasons we [the YUNGA team] have always wanted to be on this stage and now we are on this stage. We are very grateful to RAE and we are sure that we have Africa united for security thank you so much."
YUNGA is a local rescue network providing low-cost security by connecting neighbors to each other and with the police. The innovation is based on the 'ten household model', a traditional practice in Uganda, Kenya, Nigeria, and Tanzania where people use drums to alert their community to an emergency — and now in this technology era instead of the drums, YUNGA is a solution.
Communities (divided into 10 to 30 households) and the police stations are each given a YUNGA device that is connected to a local network. The device can be connected to an online smartphone, or to a simpler phone using SMS and an ordinary GSM phone signal. In cases of an attack or emergency, the person/victim presses a button on the YUNGA device that sends a message to devices connected to the network, with the victim's details and address, prompting a community response.
The system also works in areas with no internet through a Long Range Wide Area Network with a 20km range.
Kirigwajjo and his team are also incorporating artificial intelligence into YUNGA to detect behavioral patterns. The device will learn when people are away, and activate itself when they forget to set their alarm.
About 2,500 people from 450 households in 18 communities across central Uganda are already using YUNGA  with the team aiming to connect 32,000 households across Uganda in the next two years.
We couldn't reach Kirigwajjo for a comment on how he proposes to use the £25,000 but from his presentation, he and his team were asking for £200,000 to implement the Go2Market strategy that will see them acquire 12,000 households on the YUNGA network.
Notably, Edmund Wessels from South Africa is a biomedical engineer who has developed FlexiGyn, a battery-powered portable handheld device enabling gynecologists to diagnose and treat a woman's uterus without anesthetic or expensive equipment, increasing women's access to reproductive healthcare, particularly in remote areas.
The FlexiGyn system has a built-in light and camera on a small diameter flexible scope that can bend in multiple directions, and a display screen giving the medical operator a live view of the uterus. It enables accurate navigation through a patient's anatomy for pinpoint diagnosis.
The battery-powered device can be held in one hand and is designed to improve the experience for both the doctor and patient alike. Its mini-scope gives the examining physician direct access to the uterus through the cervix with minimal motions and pain.
Meanwhile, the remaining two finalists Chukwuemeka Eze from Nigeria and Gibson Kawago from Tanzania who emerged as runners-up each received £10,000.
The remaining 11 candidates from the 2023 Africa Prize shortlist were also given a chance to pitch their solutions for a chance to win the One-to-Watch Award and £5,000. For this award, the winner was determined by the public's vote at the Africa Prize final and it was given to Tolulope Olukokun from Nigeria for his innovation, ThinkBikes CoolMAX, an electric cargo bike with a fridge to help Nigeria's smallholder farmers get fresh food crops to market.
The final of the Africa Prize for Engineering Innovation was held at the Labadi Beach Hotel in Accra, Ghana where the finalists and shortlisted pitched their innovations to a panel of judges and a live & online audience. The judging panel consisted of Malcolm Brinded, Rebecca Enonchong, Dr. John Lazar, Dr. Ibilola Amao, Dr. Alessandra Buonfino, and guest judge, Sewu-Steve Tawia.
To date, the Royal Academy of Engineering has supported more than 130 entrepreneurs across 20 African countries through the Africa Prize for Engineering Innovation with a rigorous business training program and lifelong support through the Africa Prize alumni network.
The Africa Prize runs annually and is designed to bring together individual innovators changing their communities, to form a network that can transform Africa. The 2024 Africa Prize for Engineering Innovation is now open for entries. Individuals and small teams living and working in sub-Saharan Africa with a scalable engineering innovation to solve a local challenge are invited to enter.
The deadline for entries is July 25, 2023. HOW TO APPLY