Apps & Software
Social Media
What's New
WhatsApp Rolling Out New Status Updates That Make it Easier to Express Yourself
WhatsApp's five new status updates have started rolling out to users globally and will be available to everyone in the coming weeks.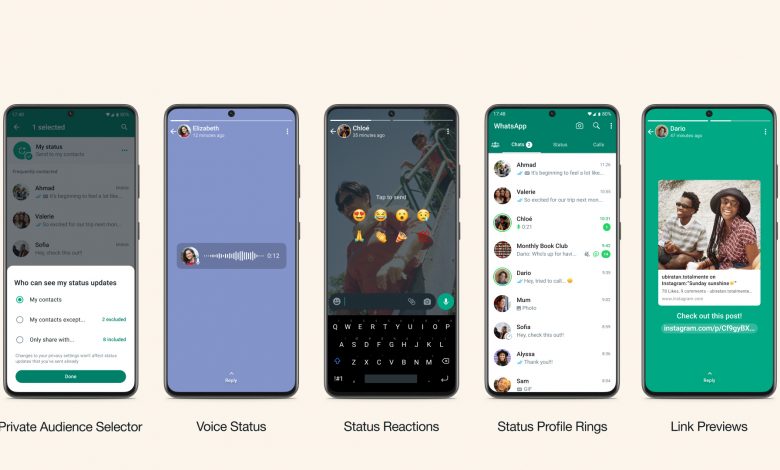 WhatsApp has today announced a set of new features for status updates to "make it easier to express yourself and connect with others," the Meta-owned social messaging platform said in its blog post. Including a Private Audience Selector which allows users to select the privacy settings for each status they share, the updates have started rolling out to users globally and will be available to everyone in the coming weeks.
The company promises that just like it is with your personal chats and calls, your status updates are also protected by end-to-end encryption so you can share privately and securely.
The Private Audience Selector feature isn't technically new since users have been able to control their status updates audience. However, there have been some improvements to the feature. According to the company, your most recent audience selection will now be saved and used as the default for your next status.
WhatsApp has now officially confirmed that voice recordings will be coming to status. We recently reported that WhatsApp was testing voice recordings as status updates, the Meta-owned platform has finally added the feature and will give users the ability to record and share voice messages for up to 30 seconds on WhatsApp status.
"Voice status can be used for sending more personal updates, especially if you feel more comfortable expressing yourself by talking rather than typing," said WhatsApp in a blog post.
Status Reactions have also been introduced providing users with a quick and easy way to respond to status updates. Now you can react to status updates from your friends by swiping up and tapping on any of the eight provided emojis including a Smiling Face with Heart-Eyes, Face with Tears of Joy, Face with Open Mouth, Crying Face, Folded Hands, Clapping Hands, Party Popper, and Hundred Points.
WhatsApp notes that this feature was the most wanted by users following the launch of Reactions in 2022.
With the new Status Profile Rings which will be visible in the chat lists, group participant lists, and contact info and can be seen around your contact's profile picture whenever they share a status update, you will never miss a status from a loved one ever again.
Lastly, the new Link Previews Status updates. Now when you post a link on your status, you'll automatically see a visual preview of the link content, just like when you send a message.
"Visual previews make your statuses look better, and also give your contacts a better idea of what the link is before they click," said the company.
It should be noted that some of the features aren't new but the company has added them to its list of recent improvements for status updates with the intention of highlighting its commitment to improving user experience.