Social Media
What's New
Instagram Introducing a New Tool For Creators to Deepen Connections With Followers
Instagram is introducing "Broadcast Channels", a one-to-many messaging tool that will allow creators to engage directly with their followers at scale.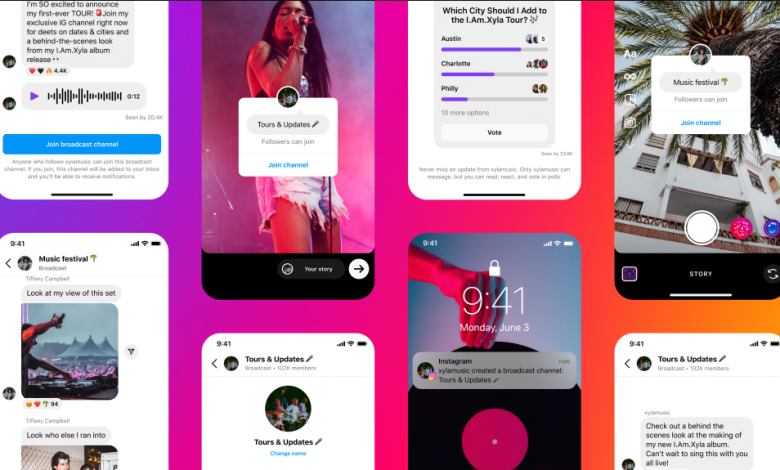 Meta Platforms-owned photo & video sharing platform, Instagram is introducing "Broadcast Channels" on the platform to allow creators to engage directly with their followers at scale.
The messaging tool is being tested with a handful of US creators and will be rolling it out to more creators globally. Creators who are interested can sign up to be considered for early access by accessing the waitlist on their mobile devices. The company noted that the spots are limited and they will be providing early access on a rolling basis.
The new feature was announced by Meta Platforms CEO, Mark Zuckerberg with his own Meta Channel. "Hey everyone! We're starting to roll out Instagram channels — a new broadcast chat feature. I'm starting this channel to share news and updates on all the products and tech we're building at Meta. This will be the place I share Meta product news first."
Broadcast channels are a public one-to-many messaging tool where creators can invite all of their followers in and share text, video, and photo updates. Instagram in the announcement also confirmed that it will roll out more features to the broadcast channels in the coming months including the ability to bring another creator into the channel to discuss upcoming collabs, crowdsource questions for an "ask me anything" and more.
In the channels, only creators will be able to send messages while [their] followers will only be able to react to the content shared and vote in polls.
Once a creator gets access to broadcast channels and sends the message from their Instagram inbox, their followers will receive a one-time notification to join the channel. Anyone can discover the broadcast channel and view the content, but only followers who join the channel will receive notifications whenever there are updates.
Followers will be able to leave or mute broadcast channels at any time and can also control their notifications from creators by going to a creator's profile, tapping the bell icon, and selecting "broadcast channel."
Notifications will default to "some," but this setting can be changed to "all" or "none." Other than the invitation notification, followers will not get any other notifications about a broadcast channel unless they add the channel to their inbox. Once a channel is added to their inbox, it will appear among other message threads, and notifications will be turned on and function like any other chat.
While this new feature is being introduced to Instagram first, Zuckerberg in his Meta Channel noted that the feature will also be tested in Messenger and on Facebook in the coming months. "We're also bringing channels to Messenger and Facebook in the coming months."
How to join a broadcast channel:
Access the broadcast channel link via a creator's Story sticker, the link pinned to their Instagram profile, or as an existing follower, a one-time notification sent when a creator starts a new channel.
Tap "Join broadcast channel." People who are not yet following the creator will be prompted to do so.
After joining the channel, followers can react to content and vote in polls, but cannot send messages. They can also share a link to their favorite creators' broadcast channels so friends can follow and join.
ALSO READ: INSTAGRAM ROLLING OUT A NEW TO HELP ITS USERS FOCUS AWAY FROM THE APP