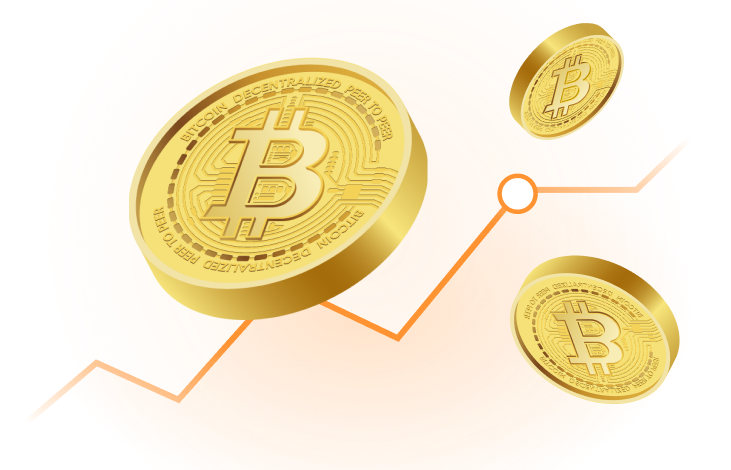 The bitcoin price has been in the doldrums since marking its last all-time high price of $68K in November. Crypto enthusiasts call this a "crypto winter." There have been three of them in the last decade of enormous ROI in bitcoin price growth.
But there are plenty of reasons to be bullish in the long and near term for the world's first and oldest cryptocurrency. Investors who hold bitcoin, or are interested in making an entry trade sometime soon, may want to stay apprised of what the bitcoin rainbow charts say.
What is Bitcoin and Why Does it Matter?
Bitcoin is a cryptocurrency. It invented the entire asset class of cryptocurrency in the first place with its 2009 debut. Crypto is a new kind of money that is not created by the expansion of credit through government-sponsored, institutional lenders.
Instead, crypto is a class of software-based, peer-to-peer networks that create money by securing debits on an immutable, permissionless, anonymous, borderless, decentralized, peer-to-peer ledger. The features and benefits of this new class of money are much sought after by online merchants, and investors seeking to hedge their portfolios to protect and grow their wealth.
Is Bitcoin Still Worthwhile as an Investment in 2022?
While bitcoin's price has been in capitulation on liquid exchange markets for this entire year, that hardly means the crypto enterprise or bitcoin itself is done for. It has had many other similarly drastic and persistent market corrections over its decade in operation.
Those critics who have declared the coin dead have found themselves wrong about it every single time when the price rallies again into another bull market and charts new highs.
At the fundamental analysis, bitcoin has strong long-term prospects. In September, the hash rate (the amount of computing power bitcoin miners worldwide are expending to secure the network and execute transaction orders) charted a record high. And miners continue to swamp manufacturers of specially designed bitcoin mining servers (called ASICS) with new orders.
Meanwhile, institutional investors are just getting started piling in to offer bitcoin custody services to wealthy clients. Nasdaq just announced its rollout in September as well.
ALSO READ: THE BASICS OF BITCOIN INVESTING
Why is The BTC Price So Unstable?
The Bitcoin price is so unstable because it is a high-growth technology. High-growth assets trade in enormous volume with high volatility. Add to that the fact that bitcoin is such a liquid asset, often changing hands multiple times in one day, and it creates an unwieldy price chart for the coin. The coin goes boom and bust, with wild price swings, at any time scale you look at it.
What Are Bitcoin Rainbow Charts?
Bitcoin rainbow charts are a static recommendation tool for buying, holding, or selling bitcoin. They became popular in the crypto-verse in 2022. They feature a band of recommendations across the historical price movements of bitcoin on crypto exchanges.
The Principle Rule of Profitable Investing: Buy High Sell Low
Bitcoin rainbow charts are based on the fundamental, self-evident rule of investing for profits: Buy high and sell low. This is obvious, but it's not always easy for investors to let go of their emotions and sell when their holdings are overbought and the market is overheated. Fear of missing out and other psychological failures of cognition can lead to irrational decisions. These charts help take that emotional guesswork out of the equation.
Back Testing The Strategy in Historical Bitcoin Markets
While bitcoin rainbow charts are based on the principle of buying high and selling low, they implement that principle through the time-honored investing method of back-testing strategies in historical markets to get an idea of how they might work in the current market.
Advantages and Disadvantages of Bitcoin Rainbow Charts
One disadvantage of the bitcoin rainbow charts is they provide static recommendations based on historical data. They don't take into account current macro trends like sudden swerves in the interest rate environment or pertinent developments in the bitcoin industry. These offer a fuller picture of what's ahead, and investors must look outside of these charts for that information.
But the static nature of these charts is also an advantage. They keep an investor who uses them consistently aligned with a consistent investment strategy based on historical data to mitigate losses and maximize ROI. That takes the emotion and guesswork out of making trades and can keep an investor from over-managing their portfolio, saving time and worry. Ideally using them can also help save and grow an investor's money as well.
Are Bitcoin Rainbow Charts Reliable?
Nothing is 100% reliable, and the bitcoin rainbow charts don't purport to know the future for sure. What they do well, however, is provide a good general guide for when to buy, hold, or sell bitcoin based on a decade of bitcoin price movements on major exchange markets.
ALSO READ: THE BITCOIN BLOCKCHAIN TECHNOLOGY EXPLAINED