MTN Mobile Money Limited Uganda this morning launched its 4th edition of the "MTN MoMo Nyabo" campaign to reward its customers using mobile money. The 4th edition of the campaign comes two years after the telco temporarily put the campaign on halt because of the Covid-19 Pandemic outbreak.
While launching the campaign at Ntinda Industrial Park, Mr. Richard Yego, MTN Mobile Money Managing Director said that "We are happy to engage and excite our MTN MoMo customers again now that the economy is fully reopened." "Through this campaign, MTN MoMo will be giving away cars and cash to active MoMo customers who deposit money on their MoMo accounts."
The 4th edition of the campaign will run for 8 weeks under the theme "MoMoNyabo Waaka" — with prizes worth UGX2.5 billion to be won by over 16,000 MTN MoMo customers and agents across the country. The telco will be giving away 24 brand new cars (3 every week), UGX100,000 to 2,000 MoMo customers (every week), and UGX100,000 to 675 MTN mobile money agents (every week).
Yego while briefing the press said all MTN MoMo customers should participate in the promotion and stand a chance of winning. To do so, all a customer needs is to deposit at least UGX20,000 on their MTN MoMo wallet and they are automatically entered in the draw.
"Get prepared to celebrate MTN mobile money for the next 8 weeks. Get prepared to win. Get prepared to deposit UGX20,000 on your accounts, and the more you deposit the higher are chances of winning — so keep doing this every day and perhaps you will get a call from us," Yego said.
Yego clarified that after depositing cash to enter the draw, customers can choose how to use their money. "You can use it for shopping, paying bills like Yaka or water, buying airtime, voice and data bundles, sending money at zero fees using the MTN MoMo app, or simply keep it safe on your phone.
"We are excited. This is our way of giving back to our customers and agents," Yego said in his concluding remarks. "Our partners out there you have been supportive for the past several years, and we're saying as MTN that we have come with MTN MoMo Nyabo with Waaka."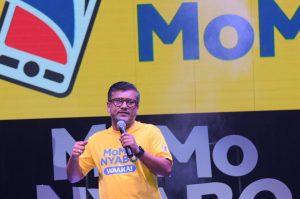 MTN Uganda CMO, Mr. Somdev Sen who joined MTN Mobile Money Uganda Limited in the launch of the campaign also called on all MTN MoMo to participate in the campaign. "We didn't have MTN MoMo Nyabo because of Covid-19 but now we are back. We are now ready to come back — and what we're going to ensure happens over the next 8 weeks is a lot of celebrations, a lot of fun, and a lot of winning."
MTN Mobile Money Uganda Limited will be doing tours across the country to create awareness about the campaign. The company has already been seen in currently of Ntinda, MUBs, Mbuya, Kitintale, Luzira, and Mutungo.
The MTN MoMo Nyabo draws will be conducted live on NBS TV and Bukedde TV every Thursday at 8.30 PM (EAT) and simultaneously have daily updates. The exciting shows will be presented by Richard Tuwangye alongside Zahara Toto.
MTN MoMo Nyabo campaign dates back to 2018 (the first-ever). Thousands of lives have been transformed by the prizes they have won over the years.