Apps & Software
Facebook
Internet
News
Social Media
Meta is Launching Facebook Reels in More Than 150 Countries
Meta is launching Facebook Reels in more than 150 countries around the world and will also help creators earn money from the Reels.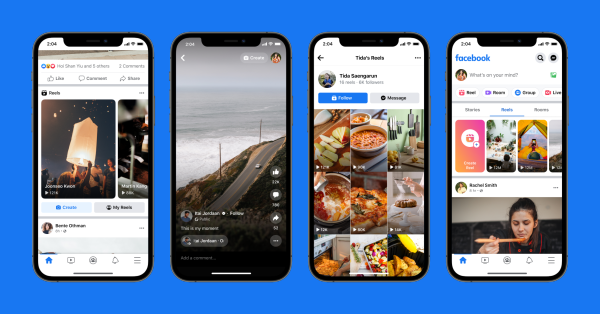 Meta (formerly known as Facebook) has announced it is expanding the availability of Facebook Reels for iOS and Android to more than 150 countries across the globe. Simultaneously introducing better ways to help creators to earn money, new creation tools, and more places to watch and create Facebook Reels.
"Watching video is half of the time spent on Facebook and Instagram, and Reels is our fastest-growing content format by far. We're focused on making Reels the best way for creators to get discovered, connect with their audience, and earn money. We also want to make it fun and easy for people to find and share relevant and entertaining content," Meta wrote in a blog post.
Facebook Reels were introduced in 2021 [beginging in the US] can consist of music, audio, effects, and more. You can find Facebook Reels in Feed, Groups, and Watch. When viewing a reel, you can easily follow the creator directly from the video, like and comment on it or share it with friends.
Meta is rolling out Facebook Reels with new updates to make it easier to create and discover reels in new places which include: Reels in Stories, Reels in Watch, Top of Feed, and  Suggested Reels in Feed. Meta has also mentioned that they're also exploring ways to make it easier for creators to share Reels to both their Facebook and Instagram audiences, such as crossposting.
Meanwhile, more editing features are being added to the Facebook Reels. In addition to the features that were announced last year, creators around the world will now be able to access:
Remix: Create your own reel alongside an existing, publicly-shared reel on Facebook. When you create a Remix, you can create a reel that includes all or part of another creator's reel.
60-second Reels: Make reels up to 60 seconds long.
Drafts: You will soon be able to create a reel and choose to "Save As Draft" below the Save button, and publish later when you desire.
Video Clipping: In the coming months, Meta plans to roll out video clipping tools that will make it easier for creators who publish live or long-form, recorded videos to test different formats.
Meta is also creating a variety of opportunities for its creators to earn money for their reels. Reels are part of Meta's USD$1 billion creator investment which pays eligible creators up to USD$35,000 a month based on the views of their qualifying reels.
"Building on our deep experience in helping creators earn meaningful income from our monetization products like in-stream ads and Stars, we're also building direct monetization options for Facebook Reels through ad revenue share and fan support," Meta writes.
With Stars on Facebook Reels, people can buy and send Stars while watching reels to support creators. Both overlay ads and Stars are designed so that as more people view and engage with Reels on Facebook, creator payouts can grow.
Facebook Reels is a similar concept to TikTok, Snapchat Spotlight, Instagram Reels, and YouTube Reels.
Time will tell whether having two types of Reels from Meta will be worth having, but for now, better features with a worldwide rollout could help Facebook pivot to video in a better way, compared to its previous efforts of Facebook Live and Facebook Video feeds.