Apps & Software
Business
Columns
Digital Impulse
Features
VR and AR
How an Organization Can Implement Virtual Reality Training for Better Business Growth
Incorporating virtual reality into employee training programs can benefit an organization in multiple ways to boost overall operational efficiency and employee retention as well.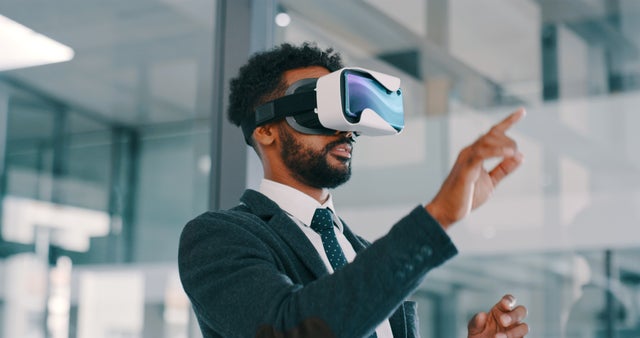 With easier implementation and deployment, Virtual Reality (VR) is dignified to transform corporate training and boost business growth all over the world. VR training is proven useful and fertile in different industries and sectors. As a modern business owner or manager, you may be thinking to harness the power of virtual reality training to hone your employees' skills in the best way possible.
This article will cover the ways businesses can use VR to upskill their teams and how an organization can implement virtual reality training for employees to boost employee efficiency and business growth.
Common use cases of virtual reality in the workplace
1. Safety Training Simulations
The benefits of VR training are obvious when it comes to pretending high-risk environments to train employees. Whether it is the matter of operating heavy-duty machines, working in hazardous environments, or other high-risk training situations, virtual reality helps business settings and organizations to put their employees in virtual environments that are similar to real-world situations even without imposing real-world risks.
VR allows employees to experience the situations directly like safety training, chemical leaks or medical emergencies, etc. This ensures that they have real-world experience even before doing it in real at the workplace.
2. Soft Skills Training
Soft skills training is one of the best virtual reality training examples that organizations can take advantage of. VR can help employees with workplace engagement, stress management, public speaking, and presentations, etc. so they can perform their duties efficiently.
Businesses can easily personalize VR training programs to meet employees' industry-specific requirements and needs. VR training also offers employees realistic simulations of corporate events and meetings like annual meetings or networking events so they can practice and experience the situations repeatedly.
3. Recruitment and Onboarding Training
Hiring the right professionals for your company is important than just finding the people with the appropriate skill set. This means you should find and hire individuals who are the right fit for your corporate culture. This is where organizations can incorporate VR to simulate the interview and employee onboarding and provide them with useful information to help them perform well in their roles.
Businesses can also use virtual reality at tradeshows and other corporate events to boost the recruitment process. In this way, a business or organization can grab the attention of a larger audience than its competitors. There are several VR agencies offering VR training solutions specifically designed to individual corporate training needs and requirements.
Equipment and Resources Required for VR Training
1. Standalone VR
Standalone VR devices come with a built-in screen processor, battery, and viewfinders to provide users with spatial orientation related to the real world. A standalone VR headset doesn't need a computer or digital device to plug into. Since they are cordless, flexibility and portability are the major benefits of standalone headsets. Organizations can use them anywhere to train their employees or provide their customers with an amazing VR experience.
2. Tethered VR
Tethered VR headsets are digital devices that are connected to a PC or laptop with a wired connection. They come with less flexibility but offer a high-quality in-headset experience as they produce high graphics. Tethered VRs often track the user's position with help of external sensors or cameras.
3. Desktop VR
These VR devices and connected to desktops and allow users to practice the same information or experience on desktops that they experience in a virtual environment using VR headsets. They may need a mouse, keyboard, or joystick to explore the environment effectively. Desktop VRs are useful for learners who don't like to wear headsets or deal with standard VR accessories. Desktop VRs are less expensive and lighter on the business budget to provide their employees with excellent virtual reality training experience.
Final Words
Virtual reality training provides organizations an opportunity to train their employees smarter, not harder. This makes employee training easier and effective than ever before. Incorporating virtual reality into employee training programs can benefit an organization in multiple ways to boost overall operational efficiency and employee retention as well.