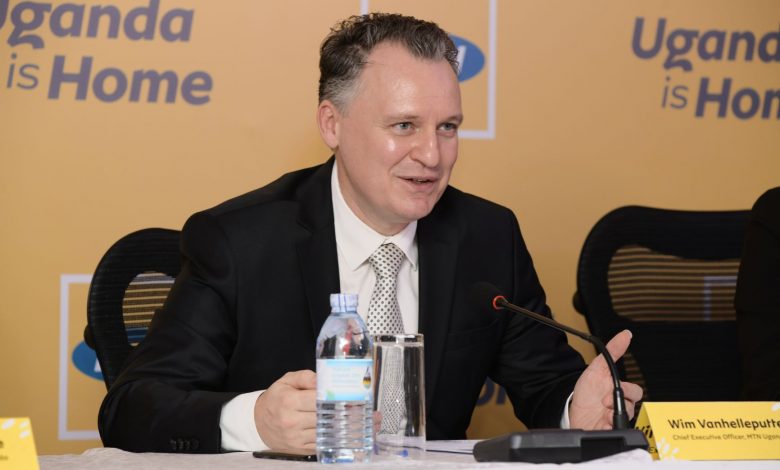 MTN Uganda today morning officially announced the opening of its initial public offer (IPO) of 20% of its shares, following approvals by the Capital Markets Authority of Uganda (CMA) and the Uganda Securities Exchange (USE). This comes after the telco announced last week that it would float 20% of its shares on the Uganda Securities Exchange.
MTN Uganda CEO, Mr. Wim Vanhelleputte confirmed to journalists that with 22.5 billion MTN Uganda shares, MTN Group will sell 4.4 billion of its shares at a value of UGX200 per share with the offer open for six (6) weeks starting today, October 11th, 2021 to November 22nd, 2021. Now MTN Group currently holds 96% shares of MTN Uganda.
During the announcement, Wim Vanhelleputte said, with the opening of the IPO the telco is one step closer to their goal of broad ownership of their business across the Ugandan population. He further said, "Our m-IPO initiative is the country's first paper-free IPO platform aimed at retail investors, in partnership with the USE, and will help position Uganda at the forefront of digitizing the capital markets for Africa.",
MTN Group Vice President for Southern and East Africa, Ms. Yolanda Cuba said the IPO would give Ugandans an opportunity to participate in the ownership of their country's leading mobile operator and, in doing so, help deepen Uganda's capital markets.
"Today's IPO is very clearly aligned with our Ambition 2025 strategic intent of leading digital solutions for Africa's progress," she said.
The offer aims to facilitate the broadest possible shareholder base in Uganda, with Ugandan Retail Investors making Applications for Offer Shares of an aggregate minimum value of UGX5 million to be allocated the full number of Offer Shares for that minimum value applied for. A unique digital channel will be available to retail investors for IPO subscription: the m-IPO portal, accessible via USSD and via the MyMTN App. Traditional payment channels will also be available across Uganda at Stanbic Bank, Absa Bank, and Standard Chartered Bank branches and authorized selling agents.
The IPO includes a broad share incentive scheme and Ugandan retail investors in particular using the m-IPO channel are eligible to receive 10 additional incentive shares for every 100 shares applied for and allocated in the IPO.
Following the successful completion of the offer, the company will list its entire ordinary share capital on the Main Investment Market Segment of the Uganda Securities Exchange. This will meet the requirements of MTN Uganda's license, which requires its listing by end of June 2022.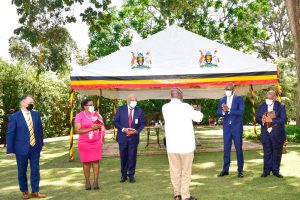 A day after MTN Uganda announced their intention to proceed with an IPO and subsequently list on the Uganda Securities Exchange following the requisite approval by the Capital Markets Authority, President Museveni commended MTN Group for allowing Ugandans to be partners in all the activities of the company.
Museveni while meeting with the MTN Group delegation led by MTN Board Chairman Mcebisi Hubert Jonas and the Group's President CEO Ralph Mupita at State House in Entebbe, described the telco's strategy as very important — who said it allows Ugandans to be partners in the company's activities.
"Localisation is very important. It removes nationalism in the business where all people become partners," he said.
During the meeting, Mcebisi informed the President that the telco has made tremendous progress in the localization strategy that will see Ugandans acquire shares as the company aims at ensuring that MTN is owned by the people of Uganda. "The localization process has started to ensure that MTN is owned by Ugandans. The overall new strategy is that as a company, it is owned by Africans," Mcebisi said.
The minimum shares you can buy in MTN Uganda is 500 shares, buying each share at UGX200, thus making it a total of UGX100,000.
"The minimum number of shares you can buy is 500. This offer is truly for every Ugandan out there. So for as little as UGX100,000, you have a chance of being a shareholder in MTN Uganda," Stanbic Bank Chief Executive Officer, Ms. Anne Juuko told the press.
For as little as 100,000UGX, you have a chance to be a shareholder in MTN Uganda. You cross from being a subscriber to an owner of MTN Uganda. – Anne Juuko, CEO @stanbicug. @USEUganda @wimMTNUG @MTNGroup #MTNIPO #UgIsHome #GoodTogether pic.twitter.com/AJJbhjvSBC

— MTN Uganda (@mtnug) October 11, 2021
How to apply for MTN Uganda shares, but firstly, you need to have an SCD Account. To create your SCD Account,
Go to https://scd.use.or.ug/ web URL, open an account so that you can create your SCD Account.
From your USE Easy Portal dashboard, under 'Portfolio Summary' select create SCD Account.
While creating your SCD Account you will be required to input your biodata that requires your personal details like Name, Title, Date of Birth, and Gender. Other information that is required includes; Identification Documents, Contact Information, Bank Information, and Broker Information.
Once completed and approved, you can then go ahead to buy shares in MTN Uganda.
Also note that with your SCD account, you can buy or sell shares in any of the companies on Uganda's stock market including MTN Shares.
Now to buy share;
Dial *165*65# and press ok.
Press Option 2 to 'Apply for MTN Shares'.
Select Option 1 'For Self' so that you can buy MTN Shares for yourself. However, you can also buy for another person by selecting option 2. But this time press option 1 to buy for yourself.
Type 1 to confirm your SCD Account details. (Please NOTE that to continue up to this step you need to have an SCD Account first.)
From the shares options, select the number of shares that you want to buy.
To finish buying off the shares, you will be required to enter your mobile money pin as confirmation for payment.
Press 1 to confirm that you have read the MTN IPO Prospectus and accepting the Terms and Conditions.
All will be done.