Editor's Pick
Features
Google
AidaForm: Handy Form Creator and a Google Forms Alternative Worth Considering
We review and compare Google Forms with the new AidaForm Form Creator. Let's see what AidaForm does that Google Forms doesn't and why it is worth a try.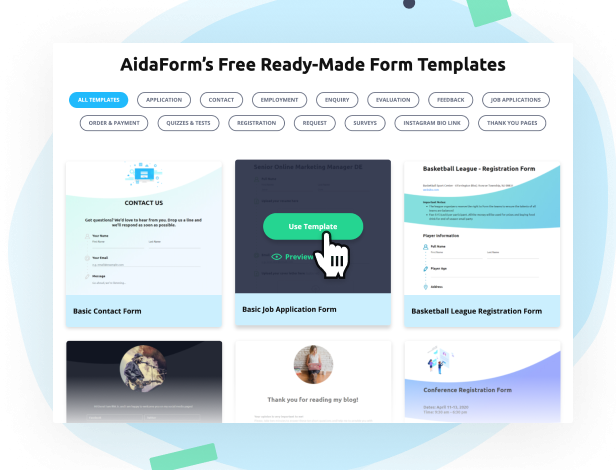 Google Forms is a universally known tool and a part of Google Workplace. It's the first online form tool for many people, too: as long as you have a Google account you can create Google Forms for free – that's why many people choose it.
Google form creation is pretty intuitive, but for anything above a quick test, feedback collection, or event registrations the tools Google offers are usually too basic. If you want to create meaningful application forms, advanced forms with branching question sequences, or order forms with payment options, you'll need an alternative to Google Forms.
In this article, we will review and compare Google Forms with the new AidaForm Form Creator. Let's see what AidaForm does that Google Forms doesn't and why it is worth a try.
AidaForm Lets You Create Order Forms with Payments
While you cannot collect payments via Google Forms, the AidaForm service does a great job as an order form builder. You will be able to:
Process payments via Stripe and PayPal.
Receive fixed fees for services or events.
Collect donations without specifying the sum: it'll be up to donors to select a donation amount.
Sell goods and services using a complete Order Cart.
Offer subscriptions with repeat payments at certain intervals.
Create an order form from scratch or use one of the many ready-made templates with fields and designs for any occasion.
Collect e-Signatures
Google Forms does not offer an electronic signature (e-Signature) field. You can use an add-on to enable this feature. Before you add third-party extensions to your Google Form, make sure they work correctly and meet all the latest data protection requirements.
AidaForm has its own signature field that's secure, reliable, and available in the Expert plan for just $20 a month. With AidaForm Expert, you can create a branded consent form to easily collect signatures and other required data, download the completed forms in PDF format, and even email a copy of the PDF to your respondents.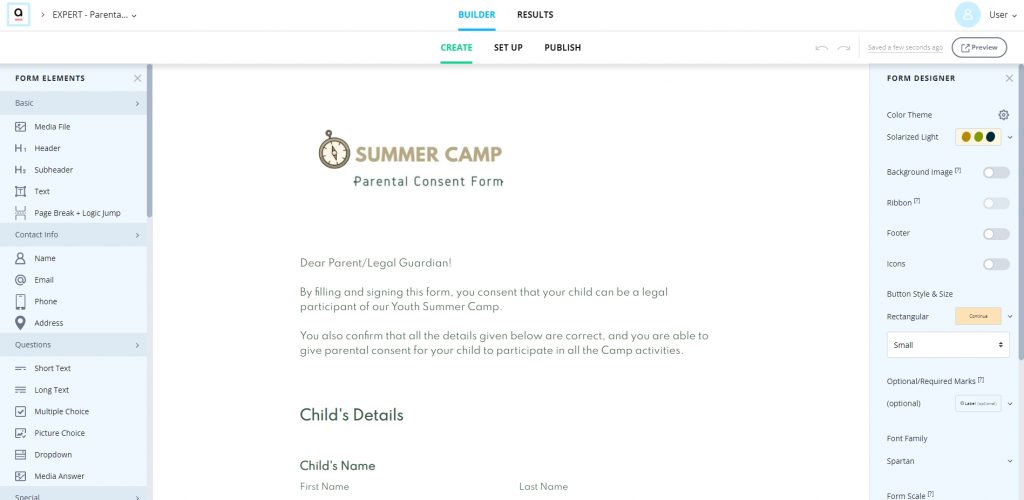 Use Friction-Free File Upload
Google Forms surely has the ability to set up file upload within a form. What makes it kind of inconvenient when you use online forms commercially, is the obligatory "log in to your Google account" requirement before the respondent can attach a file to your Google Form. Even if the user does have a Google account, taking this additional step could lead to a decision to abandon your form. Other people may not even have a Google account (outrageous, right?)
AidaForm has a File Upload field with no strings attached. The function is included in the Expert plan and is available at $20 a month. This plan includes 5GB of storage space for uploaded files and the possibility to send them in an attachment to the email notification about a new response.
Follow GDPR guidelines
Google Forms is a secure and GDPR compliant service. However, it's important to remember that it's you and not Google who should make sure that your form or survey complies with GDPR regulations. One of the requirements is that you as the data controller inform your respondents about your data collection process: what information is collected, how it is processed, where it is stored, how and where your respondents can change their cookie preferences, and other details.
To be GDPR compliant, the form or survey you send to your customers must explicitly provide the required data protection information: for example, a link to the Terms of Use of your service or website. The form must also explicitly ask people if they agree to those terms.
Here is the problem: Google Forms won't let you insert links to your Terms of Use in forms and surveys. This makes it nearly impossible to fully comply with GDPR if you're using Google Forms for your business.
AidaForm has a special Terms of Use field with a link to your website, and it's an alternative to Google Forms that make it easy to create a GDPR-compliant form or survey.
Make Engaging Forms Optimized for Mobile Devices
Technically, Google Forms is fully adaptive and optimized for mobile devices. The following is purely my own opinion and experience, but many Google Forms fields, such as Multiple Choice, look confusing and awkward if you attempt to fill them out on a mobile device. As a marketer and business owner, I wouldn't risk losing customers who access your form from their mobile devices and close it because it's too inconvenient.
Conclusions
To sum everything up, Google Forms is a nice free tool for personal use and may be academic research, but it lacks some vital features for business purposes.
I'm not claiming that AidaForm is in every way better than Google Forms, after all, some of its functionality is not free. Neither is it the only alternative to Google Forms you can find online. You can test the waters with Google Forms and see if the basic tools it offers are enough for your tasks. However, if you need to fully comply with GDPR, let users upload files friction-free, collect e-signatures or order payments, choose clean adaptive designs, and analyze responses more fully, sign up for a free AidaForm account and try it out for yourself. I believe you'll love it!