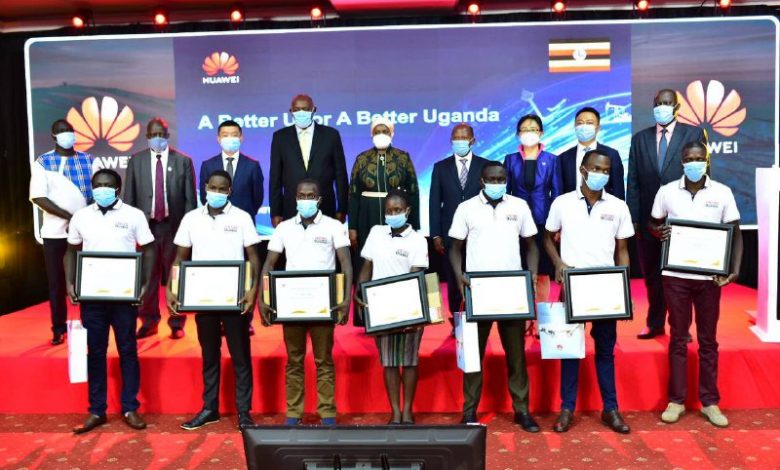 Huawei Uganda on Friday awarded regional finalists and global winners that participated in the 2020 Huawei ICT Competition; an annual competition that challenges university students around the world with ICT knowledge ultimately inspiring innovation with the theme of "connection, glory, future".
The award ceremony was held at the Kampala Serena Hotel in attendance of the 3rd Deputy Prime Minister, Rt. Hon. Rukia Nakaddama, Minister for ICT and National Guidance; Hon. Chris Baryomunsi, State Minister for Higher Education; Dr. JC Muyingo, Mr. Yang Chen Frank; Huawei Technologies Southern Africa Regional VP, and other representatives from Huawei.
Team Uganda took the first position both at Africa and the global levels, beating over 34 countries and 107 teams from Asia, Latin America, East Europe, and the Middle East. As a result, they emerged as number one in the 2020 ICT Competitions. The country was represented by three students; Doreen Nalwoga from Lira Univesity, Shaffic Nyanzi, and Emmanuel Kiguli both are from Muni University.
Uganda became the first African country to emerge in the first position despite being the newest contestant of the competition since 2017.
"I would like to congratulate the students who represented Uganda last year at the ICT Competition and raised our flag high by taking the first position globally. This shows that our education sector has not only improved but is now competitive globally and a force to be reckoned with," Dr. Muyingo said prior to launching the 2021/22 ICT Competition.
The three students' achievement was attributed to Huawei Uganda's continued recognition and efforts to build a competitive ICT talent pool among the youth who will be an indispensable accelerator for Uganda's post-Covid-19 recovery and digitization.
Rt. Hon. Rukia Nakaddama, the 3rd Deputy Prime Minister to Uganda, was happy to see that a female student was the lead winner in the competition. She went on to challenge all Ugandan girls and women to take on the male-dominated ICT field in order to excel in their respective careers and improve their efficiencies at work and lifestyles.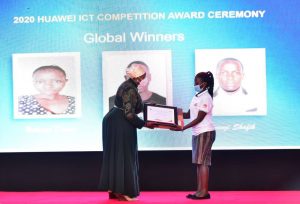 "I thank the likes of my daughter Doreen, one of the participants of the 2020 ICT Competitors who took up the first position at the global stage betting some men, thank you once again and I wish you luck in your life journeys," said Nakaddama. Adding that "As a woman who has risen to a high office, I would like to encourage more women out there to take up opportunities more so in ICT which has been predominantly taken up by men."
ALSO READ: THE 3RD DEPUTY PRIME MINISTER, RT. HON. RUKIA NAKADDAMA CALLS UPON GIRLS AND WOMEN TO PURSUE ICT CAREERS
Not only did Nakaddama praise Nalwoga's excellent performance in the competition, but she also applauded Huawei for offering programs such as the Huawei ICT Academy, Seeds for the Future, and ICT Competition for free which have in return managed to produce globally competitive human resources for Uganda.
Nalwoga appreciated Huawei for what not only has done for her but for all the youth that have been or participated in all its programs.
"I thank Huawei because it has given students the opportunity to learn skills which are recognized in the world of ICT —providing us a platform to experience and practice new innovative and cutting-edge technology to grow and develop ourselves," said Nalwoga. While sharing her experience she noted that the journey with Huawei has come with benefits such as professional certification in the fields of interest.
Huawei's ICT talent cultivation strategy in Uganda is flourishing while being sustainable due to a unique "learn-show-apply" structure, which provides not only training but also a global stage level to show capabilities and various internships and job opportunities to apply their skills. Thus, building Uganda's ICT talent requires partnerships and collaboration that benefit all and reinforce each other to enable even stronger programs in a virtuous cycle.
Over the years in the African region, Huawei has signed cooperation agreements with over 250 universities in 14 Sub-Saharan countries on establishing Huawei ICT academies. In Uganda, over 15 universities including; Makerere, Muni, MUBS, Soroti, Kabale, Kyambogo, Nkozi, Mbarara, KIU, and IUIU have agreed to establish these academies.
ALSO READ: KIU PARTNERS WITH HUAWEI UGANDA TO ESTABLISH AN ICT ACADEMY
University cooperation with Huawei has enabled more than thousands of university students to obtain Huawei ICT certification making them better candidates for ICT-related jobs. In Uganda alone, over 2,000 students have been trained and hundreds' have been certified giving them an advantage and upper hand of getting ICT-related jobs.