Featured
Huawei
News
Special Coverage
Technology
Uganda to be Region's Top ICT Hub — ICT Minister, Chris Baryomunsi
ICT Minister, Chris Baryomunsi says Uganda wants to be the region's top ICT-enabled country and to realize this digital transformation, the young people have to develop and use their ICT skills to drive the country forward.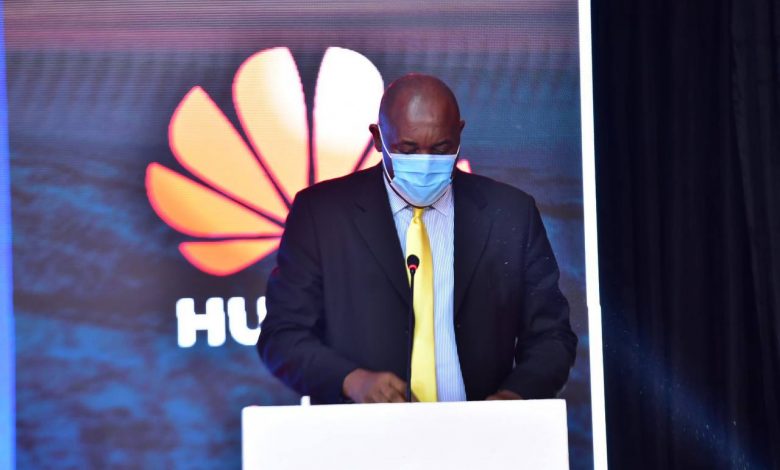 On Friday 27th, August 2021 during the Huawei ICT event held at the Kampala Serena Hotel, the Minister for ICT and National Guidance; Hon. Chris Baryomunsi together with Huawei Uganda Managing Director; Mr. Gao Fe formally launched the first-ever Huawei ICT Talent Development Report.
The launch of the report was witnessed by the Minister for Higher Education Hon. Dr. JC Muyingo, third deputy Prime Minister Rt. Rukia Nakaddama Isanga who attended on behalf of Prime Minister Rt. Robinah Nabanjja, as well as Chinese embassy representative (the economic and commercial counselor) Mrs. Jiang Jiqing, and the Huawei Southern Africa regional VP Mr. Frank Yang Chen, among others.
During his remarks, Baryomunsi said ICT is a critical part of Uganda's socio-economic development and a big enabler of job creation, business growth, innovation, export, and efficient public service delivery.
Baryomunsi further said that Uganda wants to be the region's top ICT-enabled country and to realize this digital transformation, the young people need to have the skills, passion, determination, and support to develop and use their ICT skills to drive this country forward.
He went on to note that government needs partners in the private sector such as Huawei Technologies, not only in implementing technology solutions but more importantly in working together to build the skills in the country's current and future workforce.
The ICT minister said Uganda's National ICT policy of 2014 highlights strategies of human resource development including the inclusion of a comprehensive and regularly updated computer literacy module in the curriculum at all levels of education using international benchmarks as a reference.
"The NRM government has put digital upskilling a top priority and this is witnessed in the Vision 2040. Which is, Uganda shall develop and improve its ICT capacity, building efforts by adopting globally benchmarked, industry-rated skills assessments, and training and certification standards. These efforts will be coupled with international industry collaboration in testing and certification standards," he said.
The 2021 Huawei ICT Talent Development Report showed that people and organizations' ability to access and use ICT services is more likely to drive economic development than ICT education and skills.
At the same event, Hon. Baryomunsi awarded Mr. Olinga Peter John as the most outstanding lecturer who trained the students that won the Huawei ICT Competition in 2020 at both regional and global levels.
Four students were awarded for reaching the regional level, and three students for emerging as global winners in the competition. They participated in the Huawei ICT Competition; an annual competition that challenges university students around the world with ICT knowledge ultimately inspiring innovation with the theme of "connection, glory, future".
ALSO READ: HUAWEI AWARDS UGANDAN STUDENT WINNERS OF THE 2020 ICT GLOBAL COMPETITION
Uganda became the first African country to emerge in the first position despite being the newest contestant of the competition since 2017. The students' achievement was attributed to Huawei's continued recognition and efforts to build a competitive ICT talent pool among the youth.
Hon. Baryomunsi lauded initiatives such as the Huawei ICT Academy, Huawei ICT Competition, and Huawei Seeds for the Future program as helping to make Uganda realize its 2040 vision and 2014 National ICT Policy sooner since through such initiatives that involve skilling the youth, Uganda achieve socio-economic Development and be relevant in the new digital era.
Huawei's ICT talent cultivation strategy in Uganda is flourishing while being sustainable due to a unique "learn-show-apply" structure, which provides not only training but also a global stage level to show capabilities and various internships and job opportunities to apply their skills. Thus, building Uganda's ICT talent requires partnerships and collaboration that benefit all and reinforce each other to enable even stronger programs in a virtuous cycle.
Over the years in the African region, Huawei has signed cooperation agreements with over 250 universities in 14 Sub-Saharan countries on establishing Huawei ICT academies. In Uganda, over 15 universities including; Makerere, Muni, MUBS, Soroti, Kabale, Kyambogo, Nkozi, Mbarara, KIU, and IUIU have agreed to establish these academies.
ALSO READ: KIU PARTNERS WITH HUAWEI UGANDA TO ESTABLISH AN ICT ACADEMY
University cooperation with Huawei has enabled more than thousands of university students to obtain Huawei ICT certification making them better candidates for ICT-related jobs. In Uganda alone, over 2,000 students have been trained and hundreds' have been certified giving them an advantage and upper hand in getting ICT-related jobs.
Huawei has been playing an active role in Uganda's digital transformation through technological infrastructure and digital upskilling. This has been the case since 2007 when Huawei started its collaboration with the Ministry of ICT at the time the National Backbone infrastructure project commenced.