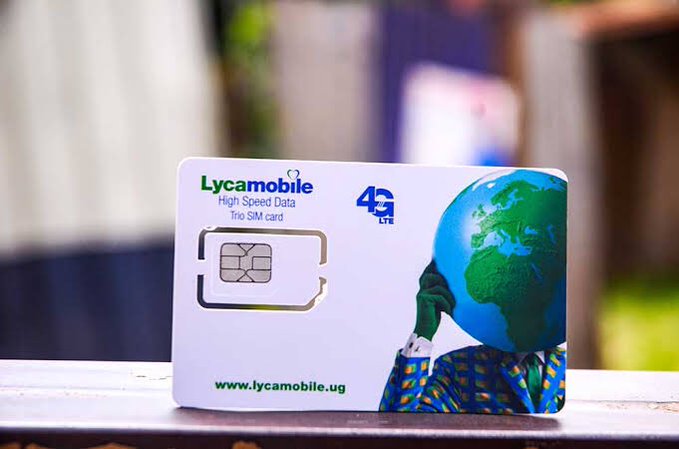 Lycamobile is a new telecommunication operator in Uganda offering Data and Voice services, but focusing mostly on data. They launched earlier this year during an event held at the Kampala Serena Hotel and officially opened by the Deputy Prime Minister, Gen. Moses Ali, who represented on behalf of President Yoweri Museveni.
The telco is operating with the 072 code. Kicking into motion, joins the market dominated by MTN Uganda followed by Airtel Uganda. Thus this being a tough market for Lycamobile. With the stiff competition, Lycamobile still aims to have a positive impact on Ugandans by providing customers with high-speed internet without compromising quality but also better call services.
When you purchase the Lycamobile SIM card, it comes with free SMS while on the internet bit Lycamobile categorized its bundles into daily, weekly and monthly inclusive of OTT. Looking at their data plans, the offer is good, the company offering more data at cheaper rate. Thus, giving us the chance to ask customers that have used the internet what they thought about it.
PC Tech Magazine hasn't acquired a Lycamobile SIM card for review, however we asked on Twitter — customers using the telco's internet, "On a scale of 1-10, what their rate of internet was? From the comments, majority rated from 7 to 9 while the rest disagreed. The disagreement was on the internet being slow, not in position to download, and being unstable. The rating for those that disagreed was 3 and below, the worst being, the customer throwing away their SIM card. On network coverage, a few customers claimed the network was stable, and a majority disagreeing with their opinion.
Lycamobile internet offers compared to the top three telecoms, MTN Uganda, Airtel Uganda, and Africell Uganda. Below is the daily, weekly, and monthly plan of Lycamobile data plans, and by looks of it, its "More Data at Low Rates."
| | | |
| --- | --- | --- |
| Daily Data Plan | Weekly Data Plan | Monthly Data Plan |
| Daily Plan: 250MBs at UGX500 | Weekly S: 500MBs at UGX1,000 | UG Super: 20GB at UGX10,000 |
|   | Weekly M: 5GB at UGX5,000 | UG Mega: 50GB at UGX25,000 |
|   | Weekly L: 10GB at UGX10,000 | UG Student: 100GB at UGX30,000 |
|   |   | UG Giga: 100GB at UGX45,000 |
These are good plans on a personal opinion compared to its competition. For instance for UGX500 with MTN and Airtel you get 40MBs while with Africell its 50MBs. This is not even half of what Lycamobile is offering. On a weekly plan, for UGX20,000 you get 5GB with MTN, 7GB with Airtel and 8GB with Africell, and half of that price, Lyca gives 10GB. For a monthly plan, Lyca offers 100GB for UGX45,000 while Airtel and Africell for UGX5,000 more offer 20GB while MTN offers 10GB.
However, even with affordable rates for more bundles but the network is poor, slow or unstable — it does send off customers. Customers need faster and stable connections to see work done easily. Thus, a customer would rather pay high for a connection that is fast and stable than one that cheap with poor network coverage.