Events
Innovation
News
Startups
The Innovation Village Launches its Corporate Innovation Summit
Corporate Innovation Summit aims at looking at collaborations among corporate entities and innovators.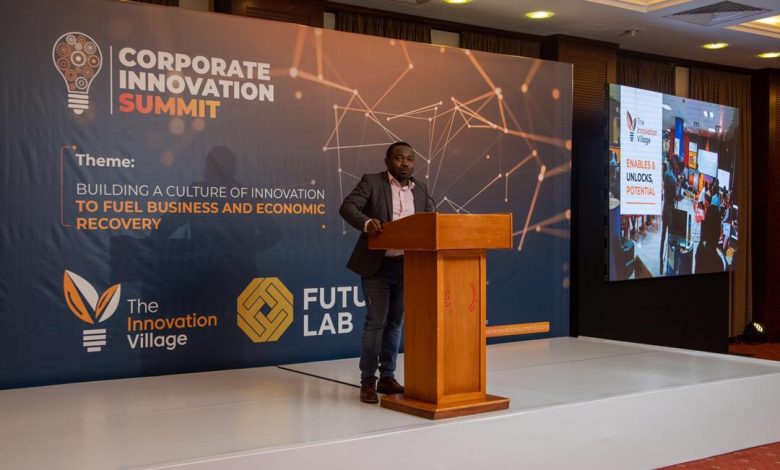 The Innovation Village through its Future Lab hosted its inaugural Corporate Innovation Summit to kickstart open discussions on how best the corporate industry can incorporate an innovation culture with pathways of implementation, integration of latest technologies and the use of disruptive business models in discovering the untapped business opportunities. 
The summit hosted under the theme 'Building a culture of innovation fueling business and economic recovery' emphasized the need for collaboration among corporate entities and innovators to adopt innovations that go beyond the invention of new ideas and adopting the use of strategic guiding principle in every aspect of an organization. 
Speaking during the forum at the Kampala Serena Hotel, The Innovation Village Team Lead CK Japheth told reporters that, The Innovation Village's core mandate is to enable and unlock potential among startups and entrepreneurs.
"All our initiatives at The Village such as the Corporate Innovation Summit are tailored to meet this purpose with the aim to create an entire ecosystem for entrepreneurs and innovators to provide solutions for our biggest challenges," said Japheth. 
Organizations have had to adapt and explore New Ways of Working due to changes brought about by the Covid-19 pandemic with a number of companies either pivoting their business models or collaborating with incumbents to meet the needs of the market.
"Uganda is not tapping into its most prized asset as one of the most entrepreneurial countries in the world. The innovation industry in Africa currently attracts about USD$2.02billion every year. Of this, 37% of that funding goes to Nigeria, 35% to Kenya, 30% to Cape Town and less than 1% to Uganda. The journey to support our youth initiatives and turn them into tangible businesses begins now," said Japheth.   
Samantha Niyonsaba, the Future Lab Lead at The Innovation Village noted that the adoption of innovation within organizations is taking shape but at a slow rate. She noted, "Less than 10% of organizations in Uganda have embraced innovation and even those that have are still at the experimentation stage. Top management has a role to play in adjusting this narrative by adopting and embedding an innovation culture with in their operations. Business leaders need to demonstrate that innovation skillset is essential for professional development and they have to show creativity and ability to guide teams and businesses by accelerating change." She said 
Joanita Menya Mukasa the Managing Director Unilever Uganda and guest speaker at the event emphasized that tailoring innovation in an organization should start and stop with the consumer. 
"Organization leaders have a role to play in fostering an innovation culture within their organizations. Leaders must therefore take it upon themselves to commit before their teams to encourage the ability to innovate but also create an environment that supports the same. For the culture to grow however, leaders must recognize that staff within the organization will make mistakes along the way which is part of the learning process." said Mukasa. 
The meeting which brought together global innovation experts, top executives across the country's most successful corporations and fast growing startups will be held annually to inform and rally the corporate sector in collaborating with innovators and startups to