Gadgets
Smartphones
Unboxing the Budget Friendly itel P36 Smartphone
A power-horse smartphone with iPhone 11 like.
Another budget friendly smartphone from itel Mobile, the itel P36, got to be our best handset from the company so far. Genuinely speaking, the new power-horse should be among the phones a first timer should think of when considering on a buy their first smartphone. The phone is an entry-level handset but from the design and looks can be considered as a mid-range smartphone.
The phone was launched last week along with a 4G enabled version the itel P36 Pro LTE. Both phones succeed the itel P33. While launching the phones, the company claimed it is setting a new innovation and growth record in her quest to rank among the top-three mobile brands globally.
The two phones were made available starting June 13th, 2020 and come priced at UGX310,000 for the base version the itel P36 and UGX400,000 for the 4G enabled the itel P36 Pro LTE. The P36 series consolidates the smartphone for everyone brand investments in mobile communication offerings that are budget-friendly, durable, and reliable.
To judge the performance of the phones, we got ourselves the itel P36, and unboxing it comes with the 6.5-Inch phone, with its accessories including a charging & data cable, charging brick, 3.5mm standard earphones and a transparent plastic back cover phone case. The manuals and the warranty card come electronically and are found after setting up the phone.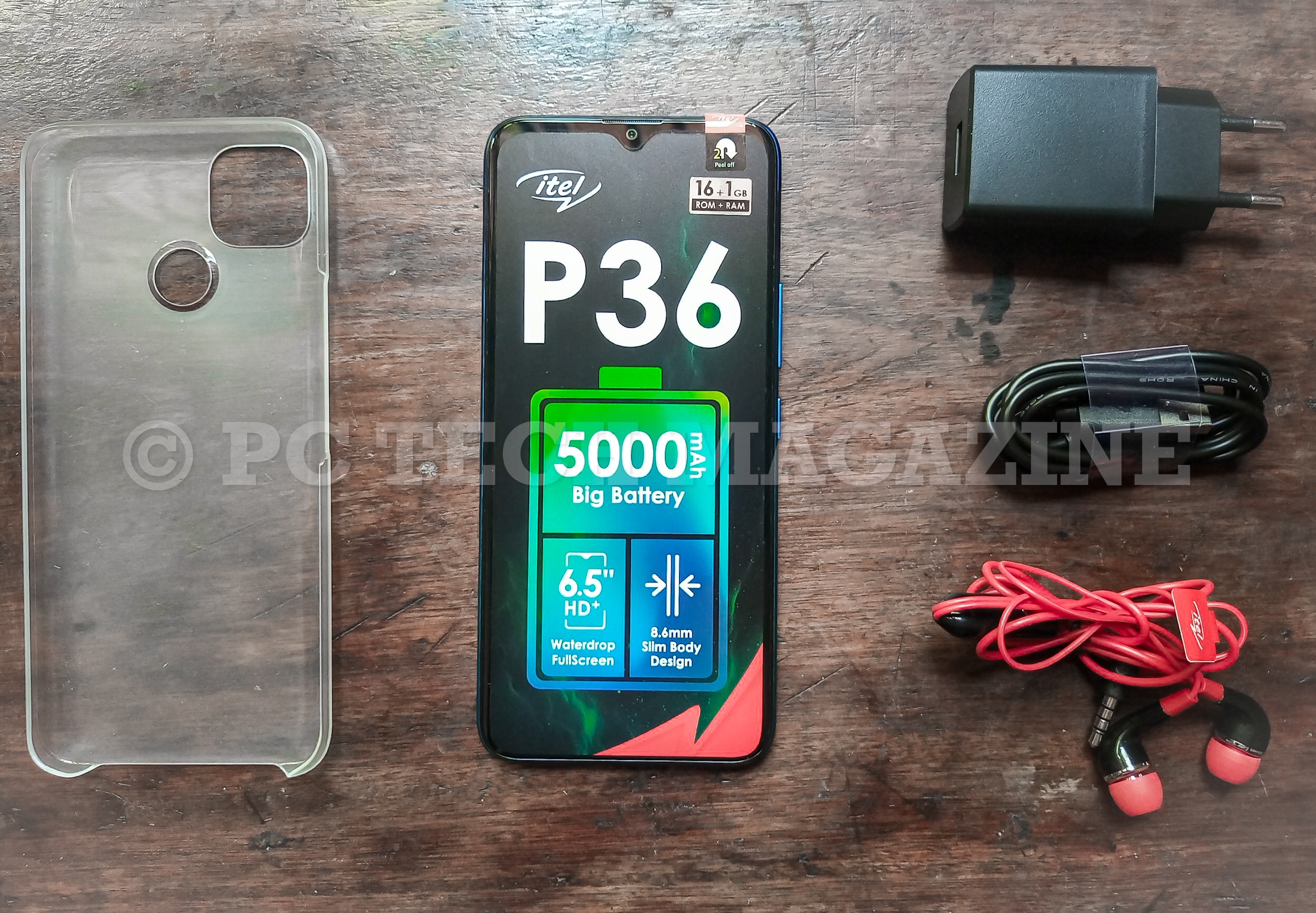 Hands-on, the phone fits perfectly when the grasped. And as mentioned before it design/looks are more mid-ranged. At the back, the company makes it look iPhone with the cameras. The dual-rear camera comes with 8MP + VGA Depth sensors and supported with a quad LED flash in a low setting. The front camera also comes with a 8MP sensor.
The P36 comes with a water-drop notch display which can be hidden if not liked by the consumer. We recommend not to because it does look perfect just the way it is. It runs on a 5,000mAh battery, a Quad-Core processor supported by a 1GB RAM, 16GB internal storage and Android 9 (Pie) operating system (OS). The OS comes with a GO Edition style to better omptize the phone for better performance. It's comes with GO apps pre-installed including: Gmail GO, Files GO, YouTube Go, among others. Therefore, we as well recommend installing apps like Twitter Lite, Facebook Lite, apps that consume less storage and RAM.
While testing it, we received perfect results when the phone wasn't used on heavy apps or multitasking. Minimal results on multitasking with slightly heavy apps in the background and bad results giving numerous lags while we using heavy apps. A single app of a GB consumed almost the whole RAM. Therefore we recommend using the phone with lite versioned apps for a good experience.