Company News
News
Raxio's Power Will be Delivered From Two Different Power Sources, Confirms UMEME
Raxio Data Centre has received its key technical power equipment from the national distributor, UMEME Limited.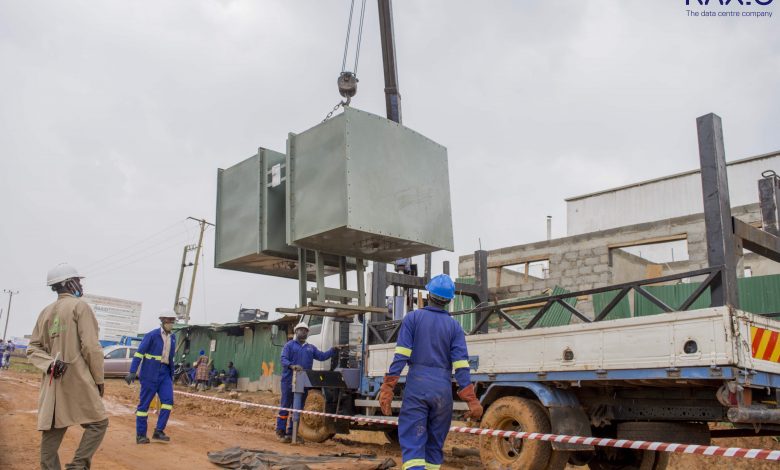 On Friday onsite at the Namanve Industrial and Business Park, Raxio Data Centre achieved a key milestone in the construction of their Tier III carrier neutral data centre as it received key technical power equipment from the national distributor, UMEME Limited.
The equipment, consisting of the Ring Main Unit, Metering Unit, Meter Box and supporting accessories, will ensure that data centre is kitted with the requisite power connections to operate at full capacity.
While receiving the equipment Raxio Data Centre General Manager Mr. James Byaruhanga expressed how they were excited in receiving the equipment.
"As Raxio Data Centre, we are excited about this step forward, this is a huge milestone for this project as power is a very crucial element in our operations."
The connection of the Ring Main Unit to UMEME's power ring will see the data centre's power delivered from two different power sources, i.e. Namanve Power Sub-Station and Kiwanga Power Sub-Station.
"This is unique as it complies with N+1 power redundancy that ensures power availability in the event of power failure at one sub-station," says Byaruhanga.
Power is one of the most important things to consider when building a data centre. The availability of reliable, steady and connected power is a critical element that brings a data centre to life and keeps the critical IT infrastructure up and running.
Note that these data centers provide power to more than just servers. In practical terms, their power design accommodates systems that make up its infrastructure. Among others, air handlers, air cooling, ventilation systems, lighting, environmental controls, fire suppression systems, security systems, surveillance cameras, and sensors all taking up a substantial amount of power.
In interview PC Tech Magazine had with Byaruhanga, he told our reporter they expect to have a fully functioning data centre in September of this year.
"In line with delays as a result of covid-19 outbreak, we project the opening of this data centre to Q3 2020 (Est for September 2020)," he said.
Raxio will be providing a Colocation Environment for its clients to host their equipment which may or may not host their data. The DC's business model is not data hosting but rather Colocation for its client's equipment for the purpose of data hosting or cross connection to their clients or providers. These clients can range from private enterprises, ISPs, Fibre Carriers, Cloud Providers, Content Delivery Networks to mention but a few.