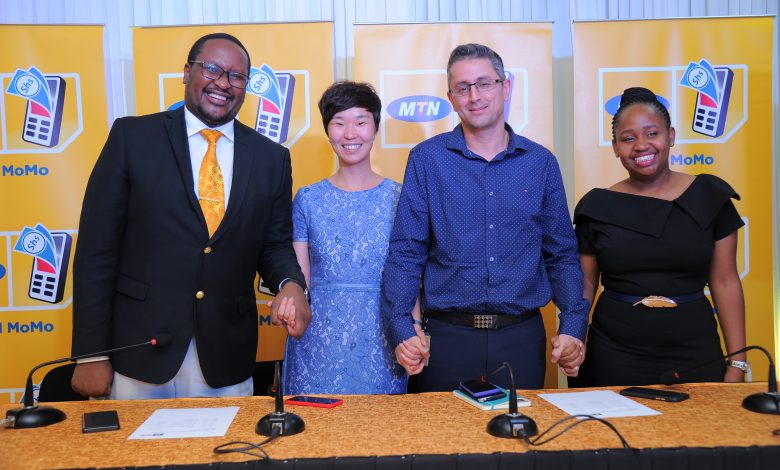 MTN Uganda on Tuesday morning at their head offices in nyonyi gardens, Kampala — announced a new partnership with Vodacom Tanzania. The partnership sees MTN Uganda adding Vodacom Tanzania to the list of telecom partners with whom customers can do mobile money transactions in the East African region.
Previously, the service was only available for Tigo, and Airtel Tanzania customers. In addition, MTN Uganda subscribers can send money to subscribes of Safaricom (Kenya), Eco Cash (Burundi). As well as MTN Rwanda.
The aim of all this exercise, is to ease the process of sending and receiving money in the East Africa region. Thereby, enabling business people and families to safely, easily, affordably and conveniently carry out money transactions.
Speaking to reporters, Mr. Ali Monzer, GM Mobile Financial Services MTN Uganda, said; "Vodacom Tanzania will take advantage of the extensive distribution network of mobile money in the region. Thereby, reducing the cost of sending and receiving money for our customers."
Mr. Monzer added that, regional remittance service is an important part of their mobile financial services strategy to increase financial inclusion for all using mobile technologies, and to reduce the cost of transferring money between countries.
Existing statistics show that in 2015 the value of trade between Tanzania and Uganda was over TSH178 billion (approx. UGX282.1 billion). Later increased to over TSH350 billion (approx. UGX554.8 billion) in 2018.
"Although the amounts of money sent between Tanzania and Uganda through formal money transfer is large, it's estimated that more than twice that amount has been sent through informal money transfers channels including bus drivers and bus attendants or using relatives and friends traveling," said Mr. Epimack Mbeteni, Director Vodacom M-Pesa Tanzania.
To send money across the region, an MTN Uganda customer begins by dialing *165*1*2# and selects their preferred destination. The customer enters the recipient's phone number and the amount to send. The customer receives a summary including; the amount they are sending, the forex rates of the day, the amount the recipient will get and then a pin prompt to confirm the transaction. Once s/he confirms their pin, the money is then sent and with the forex it converts to the country's currency.
This article has been updated from the time of publication…