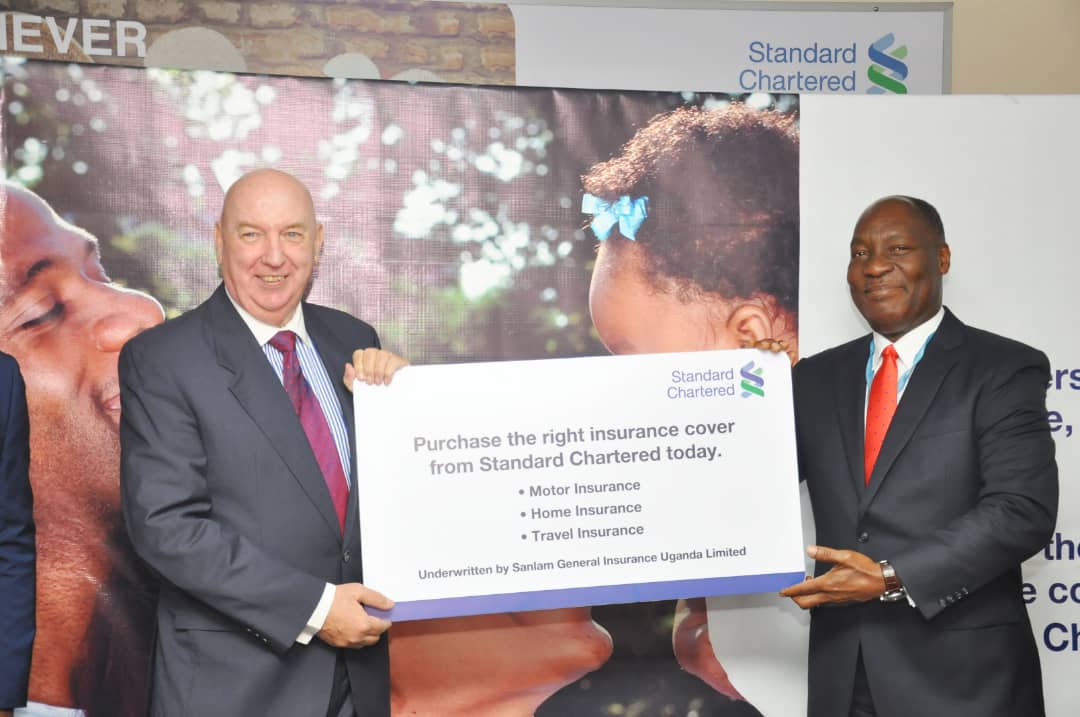 Standard Chartered Bank Uganda partners with Sanlam and launches Bancassurance products — to offer insurance service to its clients appealing them to purchase the right insurance cover and avoid being taken by surprise with unforeseen life events.
The Bancassurance products the two institutions are offering are; Home Insurance, Motor Comprehensive, and Travel Insurance. According to the bank, the three are for the start as more products will be rolled out in due course — probably later this year.
In his remarks, Standard Chartered Bank CEO Mr. Albert Saltson said, Bancassurance is a new distribution channel that must be embraced to boost the penetration of insurance which is still at a low of less than 1% in Uganda.
"These insurance products will take care of our clients' insurance protection needs in addition to the banking solutions we're already offering. The insurance benefits are designed to suit the lifestyles of our clients, guaranteeing them insurance packages that are reasonably priced, flexible and robust to meet their varied needs," said Saltson.
Mr. Gary Corbit; Sanlam CEO lauded the partnership saying it will further enhance uptake of insurance products in Uganda.
"This partnership will largely provide our existing and potential customers an alternative channel to access a range of our tailored insurance solutions for their personal insurance needs while they go about their banking. And most important is that all these financial services will all be available under one roof," said Corbit.
Saltson concluded by lauding the Central Bank and Insurance Regulatory Authority for allowing banks to provide insurance services saying, "the move would increase competition and innovation in the sector."
The Bancassurance Products
As we previously mentioned, the products are grouped in three; Home Insurance, Motor Comprehensive, and Travel Insurance.
1. Motor Comprehensive
The bank claims this is the widest cover its clients can take. Other than cover for accidental damage to their vehicles, fire and theft, the product has substantial limits to cater for legal liability to third parties in case of injury, death or damage to property belonging to third parties.
This product is customized for Standard Chartered Bank clients offering them additional benefits including;
Car hire benefits of up to 24 days while their vehicles are being repaired.
Insurance cover for forced ATM withdrawals in case of hijack or threat of violence.
Free valuation services of vehicles, if necessary.
Replacement of damaged or lost keys of vehicles.
Alternative accommodation if they have an accident far from home.
Cover for Personal effects lost in the car.
Personal accident cover for the driver or car owner.
2. Home Insurance
This is a product designed to cover clients' home or residential property with seven different sections that clients can choose from depending on their needs.
The product covers residential properties against the risk of fire, impact damage by falling objects and, a variety of natural calamities such as wind, storm, and earthquake.
Client that chooses to take out this insurance product will have the option to include the contents of their residential properties such as; furniture and electronics on the same policy including portable items like laptops, phones and jewellery.
Other unique features of this product include;
High limits of legal liability to third parties of up to UGX100M.
A personal accident cover of up to UGX8M for the insured or a member of the insured family with a medical benefit of UGX2M in case of accidental injury.
3. Travel Insurance
This product backs up clients that travel out of the country for whatever purpose; be it business or leisure.
The product is tailored to ensure that in the unlikely event that one becomes ill while traveling, the illness does't put the insured in a situation of financial stress. It is a fact that health care is very expensive in some countries, so this travel insurance product will offer high limits of up to USD$500,000 (approx. UGX1.9 billion) in medical care.
The product comes with;
A personal accident benefit of up to USD$15,000 as well as Third party legal liability of up to USD$200,000 for instance in the event of damage to something of value belonging to a third party.
Loss of baggage.
International journey cancellation.
In addition to medical expenses, the product will take care of a travel companion if required and the repatriation of children in case the insured person traveled with young children.