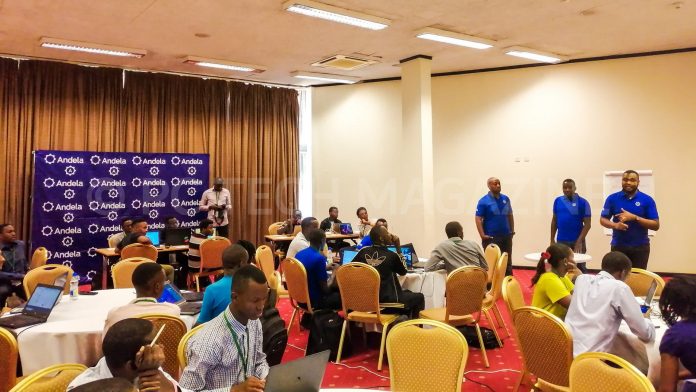 Andela Uganda has today officially opened its two day public health hackathon to showcase how technology can be used for sustainable health for all. The announcement was made at the on-going Health Innovation Conference held at the Kampala Serena Hotel.
Andela Uganda begun accept applications for participants earlier this months, and from the pool of submission, the company confirmed to this reporter that it had selected 35 participants.
Grouped to teams of seven (7), and support from health professionals, they'll create/develop mobile-based solutions around sustainable health. Under the theme "Technology for the last mile." Posing the questions, how can technology be used to improve health access for the last mile? Solutions will be judge on two (2) broad aspects; Technical, and Business.
Notably, teams will focus on how to help people in deep-rural areas receive health care/services without much hustle. Therefore for every solution developed, they should be of a more benefit to the people. For instance, accounting for cost, time, spread of information among others.
From the 7 teams, only three teams will emerge finalists and will pitch at the Health Innovation Conference where one team will emerge as the overall winner.
The 7 teams presenting including; 1. Volunteer Doctor; open sourcing medical services from doctors, 2. Meric; a health hub for patient with similar disease be in position to share their experience, as well as self diagnose, 3. Community Data; analyzing data in communities basing on WHO digital framework, 4. Oasis; an appointment tracking and monitoring application and USSD, 5. Twokya; a digital health app to provide accurate and updated health information, 6. Sort Me; a self diagnose application.
Community Data.

Meric.

Volunteer Doctor.
The winning team will receive a scholarship to Health Innovations Post Graduate Program, technical mentorship from Andela Uganda, access to business mentorship and resources from Innovation Village. In addition, a cash prize, and a grant writing support from the Infectious Diseases Institute (IDI).
Andela Uganda was not in position to share how much the winning team gets in cash prize.