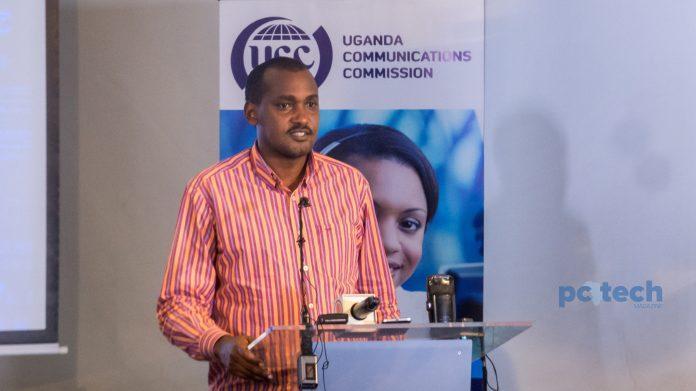 The Ugandan government recently approved a national broadband policy that industry experts warn could herald a nationalisation of the country's telecommunications infrastructure; a move they say would cripple the Internet, hinder economic growth, and even threaten the interests of neighbouring countries.
Many key stakeholders report not having been consulted during the policy development process, and members of the public have raised concerns that the policy would give the government the ability to directly censor or disable the Internet.
The policy states that "Where the government has developed fibre or any other Broadband Infrastructure like satellite, terrestrial microwave, etc. the private operators will be regulated to use the same", that the government will "Establish common international gateways in order to manage all international traffics originating and terminating in the Country", and that it will "Establish Internet exchange points and ensure that all domestic traffic remains within the Country." It emphasises that private companies "will not construct Infrastructure where it already exists."
In line with this, the policy says that the government intends to "streamline the ownership, management" of the privately run .UG domain registrar and the Uganda Internet Exchange Point (UIXP), a private non-profit organisation that provides network interconnection services.
Kyle Spencer, Executive Director of the Uganda Internet Exchange Point, argues that "if the policy is implemented as written, private companies would be prohibited from deploying broadband infrastructure anywhere it already exists, without the government having the same restriction, and network operators would be forced to use government infrastructure even in cases where private third-party alternatives are available. This set of rules would establish a government monopoly that would grow in scale as they deploy more infrastructure over time."
Spencer believes that this would "severely undermine existing private sector infrastructure investments and virtually eliminate future opportunities in that space," adding that it would ultimately lead to "lost jobs, high Internet costs, and poor quality of service." He also noted that the policy could have serious implications for Rwanda, South Sudan, and eastern DRC which rely on Uganda's network infrastructure ecosystem for access to the global Internet via the undersea cables in Kenya.
The CEO of one of Uganda's oldest Internet service providers, who asked to remain anonymous, also warned that the policy would damage the country's economy. "Why would we go back to monopolization at a time when Uganda is far ahead of other countries in the region due to a successful liberalisation and well working licensing policy that's been in place since 2005?"
He noted that wholesale international bandwidth costs in Uganda have dropped from approximately $5,000 to $10 per megabit in less than 10 years due to a competitive submarine and terrestrial fibre market. "How can the government now justify forcing the whole telecommunications sector back onto a single platform?" he asked with frustration, adding that the elimination of redundancies would increase the risk of large-scale outages.
Spencer further observed that government attempts to control his organization's ownership and management are short-sighted. "The UIXP is not a natural monopoly as some like to claim; we are the pioneers of an emerging industry. Look no further than Kenya to see a market that has grown to support more than one player. Other African countries like Angola, Nigeria, and South Africa have also seen the arrival of competition due to increased demand for IXP services" he said. "Uganda's market is not far behind those countries but, if the government directly involves itself in our business, it would create a state monopoly and kill our industry before it can be born."
Albert Mucunguzi, Chairman of the ICT Association of Uganda, called upon the government to conduct industry-wide consultations before enacting such policies. "We're disappointed that we were not consulted in the policy formulation process and have identified certain areas that are of serious concern to the industry. We'll be formally engaging the government about these issues and will hopefully find remedies before implementation."
Members of the public also expressed concern, with many social media users noting that the policy would make it significantly easier for the government to directly censor and block access to the Internet. Their concerns are in light of a recent ban on online pornography, the implementation of a regressive social media tax, and an order to block virtual private networks (VPNs). The government also has a history of blocking social media and other services during elections and politically sensitive events.
I am afraid you're mixing up issues. Centralizing (nationalizing) international gateways and the IXP for example only means that the government block the internet at the most foundational level. This is NOT the same as collocation & sharing of communication infrastructure

— mwesigwa (@valanchee) October 30, 2018
The Minister of ICT & National Guidance, Frank Tumwebaze, responded to complaints on Twitter. He claimed that critics either did not read the policy or misunderstood its intent and accused them of "irresponsible politicking." He said the policy's ultimate objective was to reduce the cost of ICT services and felt confident that it would achieve that goal. He said that the aim of the policy is to avoid duplication of infrastructure: "Where private operators have infrastructure govt won't duplicate AND Vice-Versa" and remarked that private network operators would not have to use government infrastructure if they already have their own in place.

U may call regulation "forcing " but every industry has regulatory regimes. Read the policy & understand it. Where private operators have infrastructure govt won't duplicate AND Vice-Versa. There will b sharing.This will drive affordability & more areas will b connected https://t.co/9WnmR4DpKr

— Frank K Tumwebaze,MP (@FrankTumwebazek) October 30, 2018
The Minister also insisted that several consultative meetings were conducted since 2016 but encouraged the public to continue to share substantive thoughts on the policy. "We shall incorporate them. ICT is a dynamic sector so we are open to regular reviews of policies."
The new national broadband policy objectives also include achieving a minimum broadband speed of 4 megabits per second; the implementation of mobile number portability; and to have mobile network operators listed on the local stock market by 2020 in order to stop capital flight.